Autonomous aircraft company Xwing says its Cessna Grand Caravan 208B has completed its first "fully autonomous gate-to-gate demonstration of a commercial cargo aircraft".
Xwing, a startup based in the San Francisco Bay area, says its specially outfitted Cessna Grand Caravan 208B conducted a flight that had it leave the gate, taxi, take-off, land and return to the gate entirely on its own.
The company says on 15 April that the flight took place in February 2021 from and to Concord, California, and although video shows that there was a safety pilot in the cockpit, all traffic control interactions were done from the ground.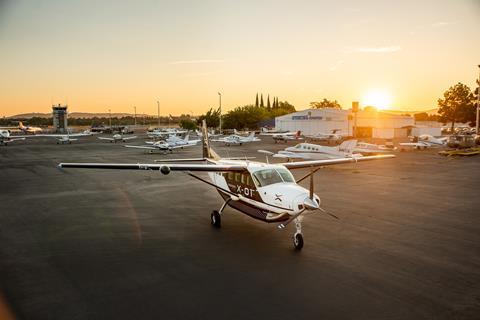 "Over the past year, our team has made significant advancements in extending and refining our AutoFlight system to seamlessly integrate ground taxiing, take-offs, landings and flight operations, all supervised from our mission control center via redundant data links," says Xwing chief executive Marc Piette.
In addition to the flight test, Xwing says on 15 April that after its most recent funding round, it is now valued at $400 million.
"Led by Blackhorn Ventures, with participation from ACME Capital, Loup Ventures, R7 Partners, Eniac Ventures, Alven Capital and Array Ventures, the new round brings the company's total capital raised to $55 million, and will be used to scale its innovation and team," the company says.
The firm, which was founded in 2016 and operated in "stealth" mode until May 2020 acquired a Part 135 Air Carrier certificate from the Federal Aviation Administration. That gives it permission to operate on-demand unscheduled charter services for air cargo transport.
Last August it said it had conducted its first autonomous flights, but the flight in February also encompassed taxiing and obstacle avoidance on the ground as well as in the air.
Xwing is one of numerous aviation technology firms, including aerospace heavyweights Boeing and Airbus, in the running to build autonomous flight systems for aircraft of all sizes. But while several companies have proven that the technology is available and works, regulators have been wary of certificating such a system, and the general public also has yet to be convinced that pilotless travel is a good thing.
That's why Xwing is focusing on freight transport, saying it will be the first aviation market to embrace this technology. It is targeting the cargo feeder market and anticipates operating in a 434nm (805km) range.
The company's Autoflight System can be retrofitted onto existing aircraft, and integrated into the on-board flight control systems, the company adds. Detect-and-avoid sensors coupled with navigation and control software generates flight paths, communicates with air traffic control and maintains flight safety.