BAE Systems is to acquire US defence and space contractor Ball Aerospace for around $4.8 billion, with the step enabling it to leverage "trusted customer relationships among the intelligence community, US Department of Defense, and civilian space agencies".
The UK company's latest acquisition is a "leading provider of mission-critical space systems and defence technologies across air, land and sea domains", BAE says. This includes "missile and munitions" activities and its provision of "high calibre space, optical and antenna solutions".
Headquartered in Colorado, and with more than 5,200 employees, Ball Aerospace reported revenue of over $1.9 billion and an operating profit of $170 million for its operations in 2022. This positioned the company 43rd in FlightGlobal's new annual ranking of the Top 100 aerospace companies for that financial year. BAE says the company's gross assets were worth over $1.1 billion at year-end.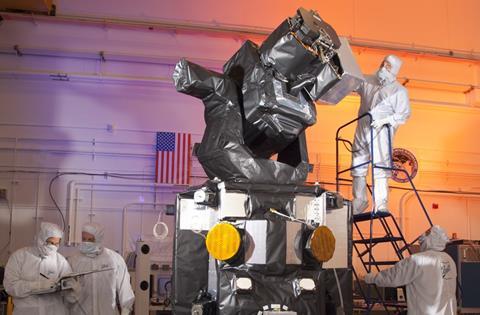 BAE announced on 17 August "that it has entered into a definitive stock purchase agreement to acquire the Ball Aerospace business from Ball Corporation… funded by a combination of new external debt and existing cash resources". It values the purchase at around $5.55 billion, to be reduced in net terms by a US federal tax benefit valued at roughly $750 million.
"The proposed acquisition of Ball Aerospace is a unique opportunity to add a high-quality, fast-growing, technology-focused business with significant capabilities to our core business that is performing strongly and well positioned for sustained growth," says BAE chief executive Charles Woodburn. "It's rare that a business of this quality, scale and complementary capabilities, with strong growth prospects and a close fit to our strategy, becomes available," he adds.
"The strategic and financial rationale is compelling, as we continue to focus on areas of high priority defence and intelligence spending," Woodburn says.
"BAE Systems is well positioned to invest in Ball Aerospace to elevate the combined business to new heights, generate significant value to critical mission partners, offer customers more affordable solutions and enable a safer world for all stakeholders benefitting from today's agreement," says Ball Corporation chief executive Daniel Fisher.
On 20 June, the parent company had issued a statement responding to "market speculation", announcing that it was "considering options that could better position its aerospace business to provide value to shareholders and customers".
Ball Aerospace has four main divisions: National Defense, Tactical Solutions, Civil Space, and Advanced Technology and Information Solutions. BAE notes that the company invested around $1 billion in its facilities since late last decade, "which, combined with its highly skilled workforce, positions the business to deliver continued growth for years to come".
BAE expects Ball Aerospace's 2023 business performance to deliver increased revenue of around $2.2 billion, and an operating profit of approximately $310 million. Following its acquisition, the company's activities will be reported within BAE's Electronic Systems business unit.
"Completion is subject to customary regulatory approvals and conditions, with a targeted completion date in the first half of 2024," BAE says. It notes that the purchase agreement contains a $100 million termination fee, to be "payable by [US division] BAE Systems, Inc to Ball Aerospace's parent company in the event the transaction is terminated because certain required regulatory conditions are not met within the agreed timeframe".
Our new Top 100 report – to be published in Flight International's September issue and available online from 18 August – has BAE ranked 11th, on the back of its aerospace-related revenue of almost $13.8 billion in 2022, down from almost $14.3 billion the year before.

Craig Hoyle joined Flight International in 2003, and has edited the now monthly title since 2015. He has reported on the UK, European and international military aviation sector for more than 25 years, and produces our annual World Air Forces directory.
View full Profile