China's aerial incursions against neighbouring Taiwan have continued unabated in recent months, with fighters and a range of other types conducting sorties.
So far in 2023, Taiwan's Ministry of National Defense (MND) has detected 1,581 Chinese military aircraft, of which 835 have intruded into its air defence identification zone (ADIZ). The ministry publishes daily updates on detections, along with maps illustrating the general routes followed by intruding aircraft.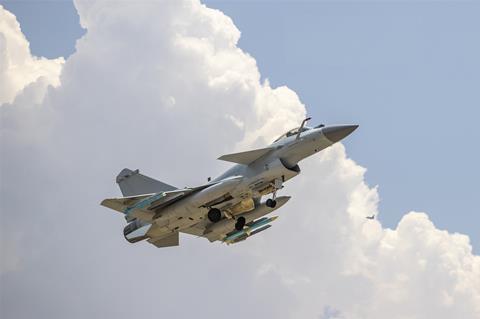 From April to June, Taiwan observed 475 ADIZ incursions, up from 360 during the first three months of the year. April was the busiest month this year for both detections (564) and ADIZ incursions (244), as Beijing vented its fury at a meeting in California between Taiwan president Tsai Ing-Wen and US House Speaker Kevin McCarthy in California on 5 April.
Fighters dominated second-quarter activity, accounting for 295 overall sorties. Prominent fighter types spotted during the period included the Chengdu J-10, Shenyang J-11, J-15, and J-16.
For all ADIZ incursions MND has a stock response, stating that fighters scramble to intercept the intruders, while air defence capabilities are primed for action.
Curiously, China's premiere fighter, the Chengdu J-20, has yet to make an appearance in MND ADIZ incursion statements. This could suggest that the stealthy type takes part in incursions but that it is not detected, or that the type is detected, but Taipei does not want to reveal this capability. Either way, the J-20 has yet to appear in MND reporting.
Support types also figured prominently in the second quarter, with 68 ADIZ incursions. Shaanxi Y-8Q anti-submarine warfare (ASW) aircraft continue to play a major role in incursions to the south/southeast of the island nation. Bombers, specifically the Xian H-6, ramped up activity significantly in the second quarter, detected in 25 ADIZ incursions as compared with just three in the first quarter.
The three months from April to June show a notable emphasis on flights that pass south of Taiwan and then fly a dogleg pattern northeast.
On 27-28 April, a Tengden TB-001 unmanned air vehicle (UAV) circumnavigated the island from south to north, while another UAV, a Harbin BZK-005, passed to the south of Taiwan's southern tip, flew up the country's east coast, before turning and flying back along roughly the same route.
Another circumnavigation occurred on 2-3 May, this time involving a Y-8 reconnaissance aircraft. A China Aerospace Science and Technology Corporation CH-4 UAV also circled around the island on 11-12 May.
Perhaps the most ambitious recent incursion took place on 8-9 June to the south of Taiwan. This involved 12 J-11 and 14 J-16 fighters operating well out over open water, along with four H-6s. Also detected were a pair of Xian Y-20U tankers, and support assets including a pair of Shaanxi KJ-500 airborne early warning and control aircraft.
MND figures do not give the time of incursions, so it is not clear if the entire force was airborne simultaneously or staggered throughout the day. Still, a force of this composition – bombers, fighter cover, and support aircraft – would pose a tough challenge to Taiwan's south and west coasts.
The sortie might also have been practising the projection of airpower into the western Pacific Ocean. This will be an important mission should the US Navy be tasked with intervening in a potential conflict over Taiwan, which Beijing claims as its own sovereign territory.
The second quarter was also marked by notable helicopter activity, specifically shipborne Harbin Z-9 and Kamov Ka-28 ASW helicopters operating from Chinese warships off Taiwan's southern, eastern, and northern coasts.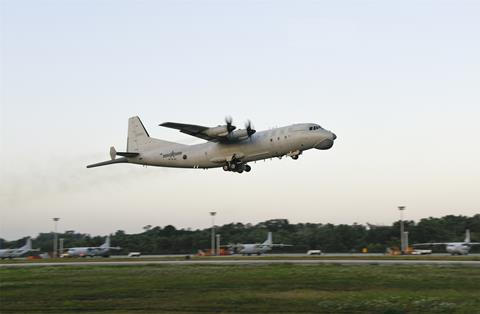 While keeping up the pressure on Taiwan, China's sorties also offer a valuable training opportunity for pilots, and an opportunity to rehearse potential missions. By the same token, such exercises likely provide rivals, namely the USA, insights into Chinese capabilities and doctrine.
MND figures also do not reflect the full range of Chinese activity around the island. Chinese state television recently reported that H-6Ks have conducted several nighttime sorties circumnavigating the island. Along with the H-6J and H-6N, the H-6K is among the most advanced variants of Beijing's venerable bomber.
The Pentagon has previously stated that the variant, equipped with six hardpoints, can strike the US Pacific base of Guam. Similarly, H-6Ks and other Chinese aircraft striking Taiwan from the east will add to the already significant airpower challenges facing Taiwanese defence planners.
The number and sophistication of Chinese ADIZ incursions suggests that Beijing remains adamant about building the high-end military capabilities that will be necessary should the Chinese Communist Party decide to conquer Taiwan.

Greg Waldron is the Asia Managing Editor of FlightGlobal, responsible for the team's airline, aerospace, and defence coverage across the region. He has worked at the company since 2009. In the airline space, Waldron has conducted dozens of interviews with airline leaders in the Asia-Pacific. He also covers areas such as MRO and safety. On the defence beat, Waldron has written extensively about the rise of Chinese airpower, as well as broader airpower developments around the region, such as indigenous fighter programmes, and regional acquisitions of foreign equipment. In addition, Waldron writes about commercial helicopters in the region and business aviation. Waldron worked has a freelance journalist with his work appearing in several business publications.
View full Profile