Air forces and airlines are conducting a major airlift operation to bring urgently-needed medical supplies to India amid the South Asian nation's coronavirus crisis.
Data from Johns Hopkins University shows that India has surpassed 20 million total cases, with over 300,000 new cases registered each day.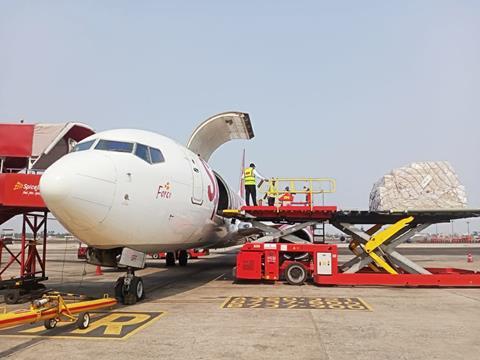 On 3 May, the official daily death toll was over 3,400 cases. A lack of oxygen supplies is seen as a major challenge for India's healthcare system, which is struggling under the weight of the crisis.
The crisis has resulted in an emergency airlift involving both military assets and commercial airliners.
The Indian air force (IAF) transport fleet has played a crucial role in flying oxygen into India from overseas, and within India itself. Through 1 May, the IAF had operated 192 domestic and 30 international Covid-19 relief missions, carrying a total of 184 oxygen containers.
The IAF's Boeing C-17 strategic transports appear to be playing an outsized role, flying oxygen-related supplies from countries such as Germany, Singapore, Thailand, the UK, and the United Arab Emirates.
In addition, the US Air Force has deployed at least one C-17 and one Lockheed C-5 to support India, with the C-5 carrying 545 oxygen concentrators.
Other air forces have offered support as well. A pair of Lockheed Martin C-130s from the Republic of Singapore Air Force have delivered oxygen cylinders. An Italian air force C-130 has delivered an oxygen production plant and a technical team to help install it.
Airlines have also contributed capacity. Low-cost carrier SpiceJet has been particularly active. On 3 May it flew 700 oxygen concentrators from Guangzhou, China, aboard a Boeing 737 freighter. This followed the 30 April delivery of 1,100 oxygen concentrators from Singapore. In all, the carrier has airlifted more than 4,400 oxygen concentrators over the last two weeks.
Local rival IndiGo has also flown in oxygen concentrators from China aboard its Airbus A320 aircraft, with the equipment packed in aircraft seats.
As for international airlines, on 3 May Qatar Airways deployed three Boeing 777Fs carrying a total of 300t of medical supplies to Bengaluru, Mumbai and New Delhi. The equipment delivered included personal protection equipment, oxygen canisters, and other medical items.
International aerospace firms also have mobilised to support India. On 30 April, Boeing announced a $10 million emergency assistance package for the country, focused on medical supplies and emergency healthcare for families.
On 4 May, Raytheon Technologies said it would donate 1,000 oxygen concentrators to India. It has about 5,000 employees in the country, mainly with its Pratt & Whitney and Collins Aerospace units.
"We need a global response to tackle India's second wave of Covid-19 infections," says Ashmita Sethi, Pratt & Whitney's India head.
"The aerospace industry has been on the frontlines, with our military and airline customers transporting vaccines, oxygen and medicines with urgency."