The US Navy has recovered a Lockheed Martin F-35C Lightning II fighter jet that suffered a landing mishap on the USS Carl Vinson in January and sank to the floor of the South China Sea.
The wreckage of the aircraft was resting at a depth of approximately 12,400ft, the Navy says.
The recovery operation was conducted by a team from the service's Seventh Fleet task force (CTF) 75 and the Naval sea systems command supervisor of salvage and diving on 2 March. The aircraft was lifted onto the diving support construction vessel Picasso.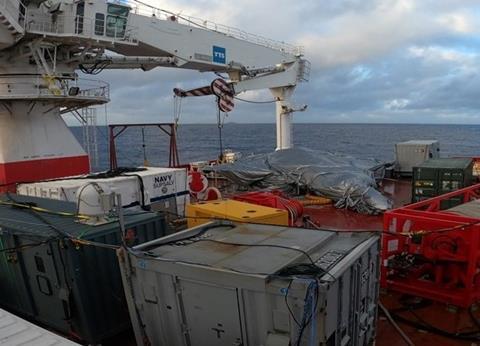 "The task force's expertise in rapid, scalable command, control and communications, agile logistics, organic security and explosive ordnance disposal was the most flexible choice for the fleet commander to respond in a timely manner," CTF 75 commodore Gareth Healy says on 3 March.
"Ultimately, this deliberate approach resulted in the correct capabilities conducting recovery operations within 37 days of the incident," he adds.
The team used a remotely operated vehicle which attached specialised rigging and lift lines to the aircraft, the Navy says. The ship's crane then connected to the rigging, lifted the aircraft to the ocean surface, and hoisted it aboard Picasso.
The F-35 will be transported to "a nearby military installation" amid the ongoing investigation into what happened on 24 January. The USN adds that the wreckage will also be "evaluated for potential transport to the United States".
Video footage leaked two weeks after the incident, which the Navy said happened while "conducting routine flight operations", showed the aircraft crashed into the sea after a failed landing aboard the aircraft carrier.
The footage, filmed from a computer monitor, appears to have originated from the Carl Vinson's deck monitoring systems. At the time, the ship and its battle group were operating in the South China Sea with the USS Abraham Lincoln.
It showed the aircraft approach the carrier well below the necessary glide slope, horizontal stabilisers working furiously, as a crewman urgently cries, "Wave off! Wave off!"
The middle of the aircraft's lower fuselage impacted the edge of the deck, causing the aircraft's nose to slam down. The aircraft, its landing gear crushed, then skidded along the deck, shedding material.
The pilot ejected about halfway down the angled flight deck, before the blazing aircraft plunged into the sea.
At the time, the Navy said seven sailors were injured, including the pilot. Three were evacuated to a treatment facility in Manila, while four were treated aboard the carrier.