A US Marine Corps (USMC) aircraft has gone missing in Norway while on a training mission during a NATO training exercise.
The USMC confirmed an earlier report from the Norwegian armed forces.
"We can confirm an incident has occurred involving a Marine Corps MV-22B Osprey aircraft. The aircraft was conducting training in Norway as part of exercise Cold Response 22 at the time of the incident," the USMC says. "The cause of the incident is under investigation."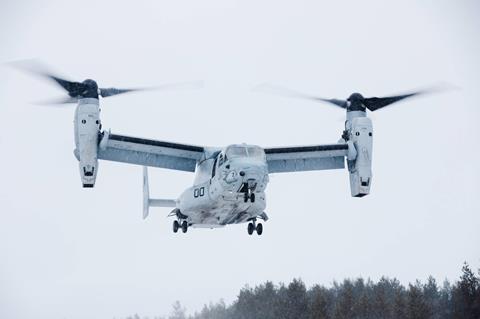 According to Norway's armed forces, the aircraft was reported missing at 18:26 local time on 18 March, about 30min after it was due to land in Bodo, in northern Norway.
The Bell Boeing MV-22B is operated by a crew of four, and can hold up to 24 combat troops, according to a USMC fact sheet. It is unclear how many people were on board the missing aircraft.
A search for the aircraft is underway amid "challenging weather conditions", which are expected to deteriorate through the night. Norway's Joint Rescue Coordination Centre Northern Norway is managing the search and rescue operation.
A rescue helicopter and a Norwegian armed forces Lockheed P-3 Orion aircraft were dispatched and "discoveries were made from the air" in Gratadalen in Beiarn, south of Bodo.
The military exercise in the far north of Norway began on 14 March and is scheduled to last until 1 April, Norway's armed forces says. More than 30,000 soldiers from 27 countries, and civilian agencies are participating in the exercise.