Video has surfaced showing the last moments of a Lockheed Martin F-35C that crashed into the South China Sea after a failed landing aboard the USS Carl Vinson.
The footage, filmed from a computer monitor, appears to have originated from the Carl Vinson's deck monitoring systems on 24 January. At the time, the ship and its battle group were operating in the South China Sea along with the USS Abraham Lincoln.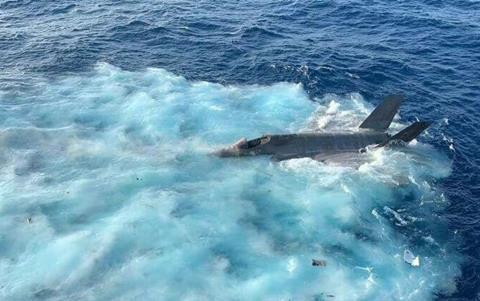 The footage shows the aircraft approach well below the necessary glideslope, horizontal stabilisers working furiously, as a crewman urgently cries "Wave off! Wave off!"
The middle of the aircraft's lower fuselage impacts the edge of the deck, causing the aircraft's nose to slam down. The aircraft, its landing gear crushed, then skids along the deck, shedding material.
The pilot ejects about halfway down the angled flight deck, before the blazing aircraft plunges into the sea. A tower of water rises up, apparently the splash created by the jet's impact.
The footage follows the appearance of images showing an F-35C floating in the ocean, its canopy ejected.
Leaked video of the F-35C crash on Carl Vinson, a classic case of ramp strike by the most advanced fielded fighter jet pic.twitter.com/wVl5nLI1bN

— Fighterman_FFRC (@Fighterman_FFRC) February 6, 2022
The accident occurred during the first operational deployment of the F-35C aboard an aircraft carrier. The F-35C squadron embarked on the Carl Vinson is VFA-147, the "Argonauts".
The US Navy has said little about the accident, in which seven sailors were injured. It has, however, stated that the accident is under investigation, and that arrangements have been made to recover the aircraft.
Some media outlets have speculated that there is a "race" between the USA and China to retrieve the jet. Beijing, however, has said that it has no desire to recover the aircraft, although doing so would represent an intelligence coup.