Emirates Airline president Tim Clark does not expect there to be any structural change to travel demand, citing the strong take-up from passengers in the markets it has so far been able restores services to since the pandemic.
In recently disclosing six-month results up to 30 September 2021, the Gulf carrier reported a quadrupling in passenger numbers to 6.1 million from the same period a year ago. But that still remains massively down on the almost 30 million passengers it carried for the same six months in 2019.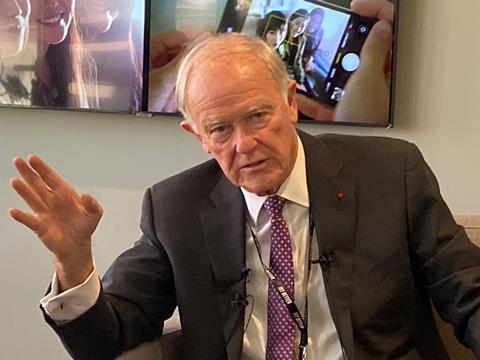 "I thought it [the recovery] might have started in the summer of this year, but the Delta variant has put us well back," Clark said during a round table at the Dubai air show on 16 November. "So what we are seeing now is about four or five months later than we thought it would happen, but it is going to happen.
"My own view is once we see the relaxation of border entry requirements and all the paraphernalia that goes with people travelling these days, particularly in the east, we will see the bounce back we have already experienced in those countries we are now flying to," he says.
"If we go back to South America – to Argentina, Brazil, Chile – I am absolutely confident that the aircraft will be filled immediately. You have the bow-wave of demand that has been depressed now for two years.
"So for the following year at least, bearing in mind many airlines have stripped out capacity, many airlines have given up routes. When we put the A380 on Turkey recently, 517 seats filled both ways."
The airline had, as of the end of September, returned its full Boeing 777 fleet to service on passenger and cargo routes, as well as 37 of its Airbus A380s.
Clark says: "By the middle of next year, certainly Emirates hopes to get its whole fleet flying."
While some other A380 operators had appeared lukewarm about the likely return to service of the type – and in some cases have axed it altogether – Clark has not wavered in his belief in the continued importance of the ultra-large aircraft to the carrier. While this is perhaps unsurprising given the scale of Emirates' A380 operations, Clark believes the fact that some other carriers have ultimately brought the type back into service illustrates the strength of demand when borders reopen.
"Gradually all the [A380] fleets are flying, because you have no choice," he observes. "You can't suppress global demand for two years ago and then say there is going to be structural changes to the nature of that demand. I'm one of those people who says it's going to bounce back and you won't be able to meet the demand."
Many markets though have only tentatively reopened, especially in Asia. Notably that includes China, a market Emirates is serving only once a week compared to 35 flights a week pre-crisis. Clark believes, though, as is already being seen in some countries in the region, travel restrictions in Asia will be eased.
"My instinct is telling me that nobody can keep their country shut for the length of time that they have done and continue for the same period of time. Singapore has just opened for double-vaccinated people. I've always said that double or triple-vaccination is the panacea for the problem," he says.