Honeywell Aerospace has started using sustainable aviation fuel (SAF) to test aircraft engines and auxiliary power units (APUs) at its Phoenix Engines campus.
The company recently received its first delivery of SAF, which will support development and production testing of APUs and propulsion systems, Honeywell disclosed 30 January.
"We see SAF as a logical path to decarbonise the aviation industry and we consider our facilities as laboratories for sustainable innovation," says Dave Marinick, Honeywell's president of engines and power systems. "Honeywell has a wide variety of ready now solutions to help create a more-sustainable future for the aviation sector, and we are proud to make this progress on our sustainability commitments in our propulsion and power systems portfolio."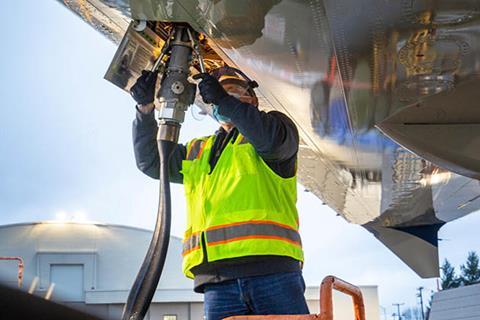 Developed by World Energy using Honeywell UOP's Ecofining technology, the SAF is produced by converting renewable material such as hydrotreated esters and fatty acids. It can be combined with conventional petroleum-based jet fuel in blends of up to 50% SAF, requiring no changes to engines and aircraft fuel systems.
"Blending SAF with conventional jet fuel is relatively easy and is based on something the biofuels industry already knows how to do," ING researcher Coco Zhang told FlightGlobal in December 2022. "It requires a minimal change to airport infrastructure."
Honeywell says it plans to run its engines and APUs with 100% SAF in the future. The company has produced some 100,000 gas turbine APUs for a variety of commercial passenger jets, military aircraft, business jets and electric vertical take-off and landing (eVTOL) aircraft.
Ramping up production and adoption of SAF is widely considered a promising near-term strategy for reducing greenhouse gas emissions from airline operations. "Airlines are increasingly aware of their the need to decarbonise and now about 38 of the world's top airlines have committed to net-zero emissions," Zhang says. "Sustainable aviation fuel is indeed a key component of their strategies."
But SAF makes up a small portion of jet fuel used today. Global SAF capacity is projected to increase fivefold in 2023 but will still only account for 1% of jet fuel consumption in 2023. Nearly 3% of jet fuel consumed globally will be SAF by 2026, according to Zhang.
Honeywell aims to achieve carbon-neutral operations and facilities by 2035. "Running our engines and APUs on SAF is a further demonstration of our commitment to our customers to do our part to reduce our carbon footprint," Marinick says.