A new consortium led by engineering design consultancy Atkins, and including Vertical Aerospace and Virgin Atlantic Airways, will in 2024 conduct an operational flight test of an advanced air mobility (AAM) vehicle from London Heathrow airport.
Designed to "significantly accelerate the introduction of AAM in the UK", the project has been awarded £9.5 million ($11.2 million) under the third phase of the government-backed Future Flight Challenge (FFC), with another £5.5 million provided by the consortium members.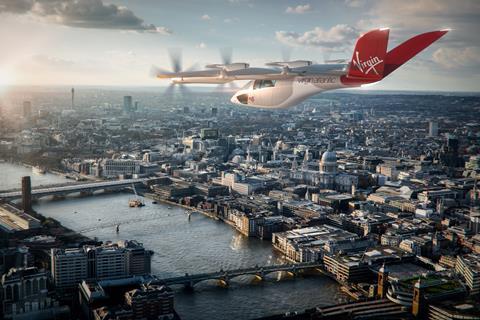 Building on work carried out as part of the FFC's phase 2, the trials are designed to create a "blueprint" for AAM operations, says James Richmond, head of future flight at Atkins.
Partner company Skyports will construct an operational vertiport at one of two undisclosed locations north of London, says Richmond.
Ground and passenger operations trials will begin there in mid-2023, eventually leading to a Virgin-operated flight of Vertical's VX4 aircraft from Heathrow to the site.
"We are hoping to demonstrate the commuter use case into London Heathrow," says Richmond, a mission which will be the "capstone" of the project.
"If you can crack that, in terms of how complex Heathrow is, you are well on the way to accelerating the UK and getting it ready for AAM operations."
Prior to the Heathrow tests, the consortium will in early 2024 carry out a flight from Bristol airport in the southwest of England to an undisclosed location around 50km away to demonstrate a "more rural use case".
A digital flight simulation of operations between Bristol and London City airports will also be conducted.
Work under phase 2 is continuing, says Richmond: later this week flights using an unmanned air vehicle and a simulated air taxi will take place at Cranfield airport to aid airspace integration.
Atkins will be responsible for the overall system architecture of the project. "We operate transport systems globally and first and foremost it is important to view AAM as a transport system rather than an aerospace system."
Besides Skyports, Vertical and Virgin, the Advanced Mobility Ecosystem consortium comprises air navigation service provider NATS, the Connected Places Catapult, Cranfield University and WMG, University of Warwick. Embraer spin-off Eve is a non-funded partner in the project, working with NATS on airspace integration.

Dominic Perry is deputy editor of Flight International but also contributes extensively to flightglobal.com. Although specialising in the coverage of the helicopter industry, he has written on most topics in aerospace – be they commercial, defence or business aviation. In addition, there has been an increasing focus on the decarbonisation of the industry and zero-emission flight initiatives.
View full Profile