Sikorsky is optimistic of the S-70M Black Hawk's chances in the UK's New Medium Helicopter (NMH) requirement for up to 44 examples, pointing to the rotorcraft's pedigree and possible industrial benefit to the nation.
Leon Silva, interim vice-president at Sikorsky for global commercial and military systems, points to the S-70M's long heritage, with the Lockheed Martin unit closing on the 5,000th delivery.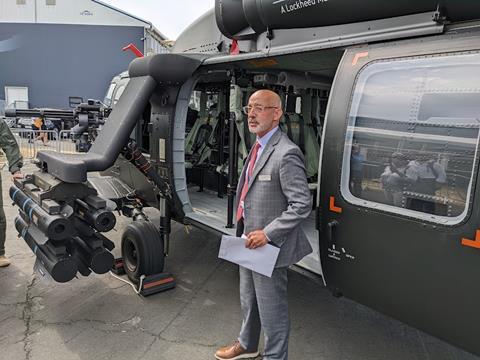 He says the Black Hawk in its "third generation" and has seen continuous improvements since the arrival of the original UH-60A in the 1970s.
"Visually it might look very similar to you, but technically it is quite evolved. There have been literally thousands of improvements based on the experience that the team has had over that period."
But with the helicopters proposed by Sikorsky for London due to be built by its Polish unit PZL Mielec, there have been questions about the offer's industrial and employment benefits for the UK.
Silva notes that Sikorsky has a long history in the UK, stretching back decades to its work with Westland – now Leonardo Helicopters.
Its proposal around industrial participation can be scaled, and will be a "pillar" of Sikorsky's offer, he adds. "We're open to very strong collaboration here, and we think that there's an important economic aspect of balance that has to be achieved."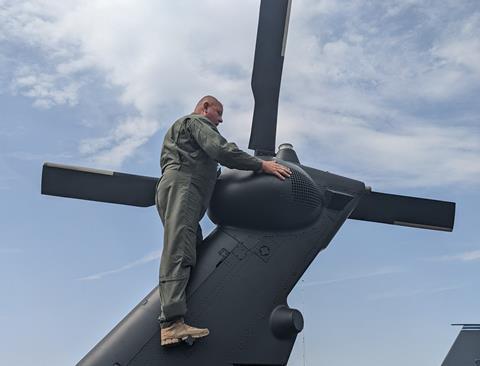 As to what UK industrial participation might look like, Silva says he could foresee PZL Mielec building the helicopters to a certain baseline, with completions and other customer-specific work undertaken in the UK.
In addition, GE Aviation's Portsmouth overhaul site will maintain the fleet's T700 engines should the S-70M be selected for the NMH requirement, where it faces competition from the Airbus Helicopters H175M and Leonardo AW149.
Ushering journalists around the helicopter at the Farnborough air show, Silva noted that the type can be maintained in the field without special equipment such as ladders.
One Sikorsky crewmember demonstrated how easy it is to climb up the helicopter's side and access the helicopter's T700 engines while another, using retractable steps in the tail, clambered up to access the tail rotor.
Silva also stressed the helicopter's ballistic protection against enemy rounds, and passenger seats that can handle 20g of force, alongside an open avionics architecture to allow software upgrades.