Aero Vodochody's L-39NG has passed fuselage strength tests, as the company works towards certification of the advanced jet trainer.
Using the fuselage of aircraft 7002, which is earmarked for static trials, the test saw the structure initially taken to the limit load, which corresponds to the maximum possible load during flight. Subsequently, this was increased to the ultimate load, or 150% of limit load. It was only at 110% of this higher level that a structural failure occurred.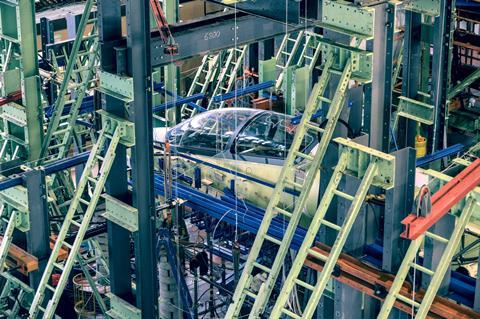 "The purpose of the tests was to verify the strength of the airframe according to the requirements of [European military airworthiness certification criteria]," says Aero Vodochody.
"During previous tests, the fuselage was loaded by bending, by inertial forces of the engine and also by forces from the horizontal tail. The last realised test represented the most critical case, it is the combined bending load of the horizontal and vertical tail."
Evaluations were discontinued after the structural failure appeared so as not to destroy the fuselage, which is needed for additional trials, such as the pilot hinge seat test.
Four aircraft are earmarked for the L-39NG's certification campaign. In addition to test article 7002, aircraft 7001 is used for flight tests, ground vibration tests, and weapons tests. Aircraft 7003 is earmarked for fatigue tests, and aircraft 7004 for flight tests. Aircraft 7001-7003 are listed as prototypes, but 7004 will be a pre-serial production aircraft.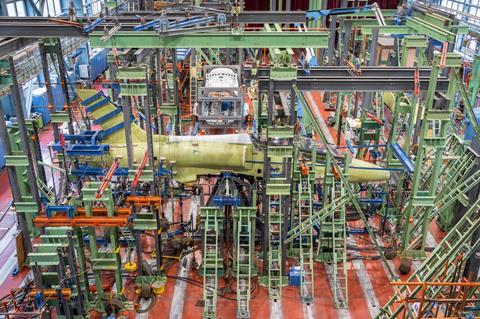 The L-39NG is an update on the venerable L-39, gaining a Williams International FJ44-4M engine, new avionics, and five hard points for weapons.
Cirium fleets data shows 26 orders for the type: 12 for RSW Aviation, 10 for SkyTech and four for the Senegal air force.