Lockheed Martin, manufacturer of the F-35 stealth fighter, is preparing to integrate an "undisclosed" country into the multinational fifth-generation aircraft programme.
The company landed a contract worth more than $25 million through the US Department of Defense (DoD) on 3 May for "support of an undisclosed country's integration as a Foreign Military Sales (FMS) customer into the F-35 Joint Strike Fighter programme".
Few details are available, but the award seems to involve the work of preparing a country that is an existing customer to receive its first F-35s.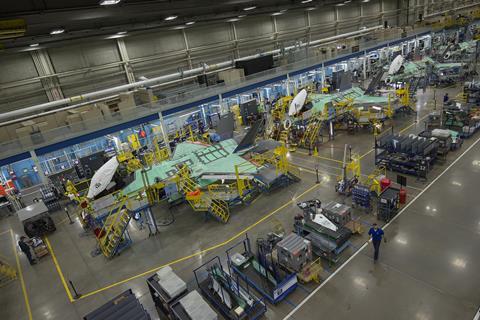 The funds come from an "FMS customer", according to the DoD, meaning a foreign government seeking to purchase American weapon systems through the US Department of Defence's foreign military sales programme. Under FMS agreements, the DoD acts as an intermediary between foreign buyers and American manufacturers, holding customers' payment in escrow and negotiating certain contract and delivery terms on their behalf.
Lockheed declines to identify the undisclosed country involved in the 3 May contract, referring inquiries to the DoD's joint procurement office (JPO) for the F-35 programme. The JPO says it is unable to name the customer but confirms the country is an existing F-35 FMS customer.
That narrows down the possibilities. There are currently 17 countries participating in the F-35 programme, of which eight – the USA, UK, Australia, Italy, the Netherlands, Canada, Denmark and Norway – are founding partners, having shared the cost of designing and producing the advanced jet.
Turkey was originally among that group, too, but was dismissed from the F-35 programme by Washington in 2019 after Ankara moved to acquire a Russian S-400 air defence system. The country is still attempting to secure a small number of jets from its original order of 100 F-35s.
Of the original partners, only Canada is still awaiting F-35s. Ottawa did not officially enter a procurement contract with Lockheed until early 2023.
The Danish government took delivery of its first F-35s in 2021. However, those aircraft were flown to Luke AFB in Arizona, where Danish crews are undergoing pilot and maintainer training. The fighters are expected to be transferred to Denmark in December.
The undisclosed customer is seemingly among the additional nine FMS F-35 buyers, which were not original partners but have signed to acquire the jet. Because the DoD contract announcement cites "integration" – which typically occurs prior to aircraft deliveries – the customer seems likely to be among buyers that have yet to field F-35s.
Among the nine non-founding FMS customers, Israel, Japan, South Korea have already received aircraft.
Belgium, Poland, Singapore, Finland, Germany and Switzerland have not. In April, Lockheed said it had begun producing Poland's F-35s, which the company expects to begin delivering in 2024. Lockheed and the Pentagon have finalised contracts for F-35 Lots 15-17, which cover Poland, Finland and Belgium, in addition to existing operators.
Poland seems an unlikely candidate to request anonymity, as it has been open about seeking to integrate F-35As into its air force, which currently operates Soviet Bloc MiG-29s and Su-22s and American F-16Cs made by Lockheed Martin.
That leaves Belgium and Finland as likely originators of the undisclosed integration contract.
Another possibility is Switzerland, which has long maintained geopolitical neutrality. However, the Swiss government only committed to the F-35 in 2022, meaning delivery of those aircraft is still several years away. The Swiss contract covers the procurement of 36 F-35As to be delivered between 2027 and 2030, according to Lockheed.
Singapore, whose strategic geographic location and proximity to China could be cause for requesting anonymity, has also not yet taken delivery of F-35s. Lockheed indicates those are not scheduled until 2026.