Amid heightened geopolitical tensions across the globe, Australian defence officials want to bolster their country's domestic production of precision munitions.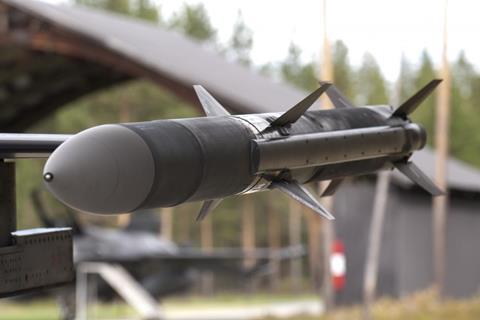 Under an initiative known as the Guided Weapons and Explosive Ordnance (GWEO) Enterprise, the Australian Department of Defence (DoD) has entered into partnerships with US manufacturers Lockheed Martin and Raytheon Technologies to develop munitions production capacity.
The goal is to get "more missiles in the cupboard" of the Australian Defence Force (ADF).
Speaking at the 2023 Avalon Airshow outside Melbourne, Lockheed executives on 1 March said their intention is to bring the company's existing technology and expertise to Australia.
"We're looking hard at how we can solve some of those security needs for the government of Australia," says Tim Cahill, executive vice-president at Lockheed's missiles division.
He notes Lockheed plans on tapping into the engineering and manufacturing talent already present in Australia's workforce to build out the high-end, digital manufacturing capability the company has already developed in the USA.
Export of such technology, even to a treaty ally such as Australia, will require approval of the US government.
Building out that capacity to an impactful level will take several years at a minimum. Lockheed says its taking cues from Canberra regarding how fast to move and what capabilities to prioritise – which will drive the GWEO timeline.
However, executives such as vice-president Ken Kota, who leads Lockheed's GWEO effort, say the effort will likely begin with less-complex, established programmes such as the AGM-114 Hellfire air-to-surface missile – rather than cutting edge developmental platforms like the stealthy AGM-158 Joint Air-to-Surface Standoff (JASSM) cruise missile.
"We're not going to jump right into JASSM manufacturing," says Kota.
The supply of precision munitions – or lack thereof – is a topic of major concern for defence leaders across the Western world. Observations from the ongoing war between Russia and Ukraine, and war games examining a potential Indo-Pacific conflict with China, indicate the USA and its allies could expend existing stocks in the opening weeks of a high-intensity fight.
Furthermore, leaders in the defence industry say they would struggle to rapidly increase production capacity of the highly technical precision-guided, long-range weapons that would be critical to victory.
Washington has moved to bolster its own stockpiles of such munitions, which have been depleted from a year of supporting Kyiv's armed forces. Congress in December authorised billions in new spending to support the multi-year procurement of precision weaponry.
In the case of GWEO, Cahill says the programme should not be considered part of the effort by Australia, the USA and NATO to bolster Kyiv.
"It's not about fighting the war in Ukraine," Cahill says. "It's about keeping the next Ukraine from happening."
James Heading, missiles business development manager for Lockheed Martin Australia, says the primary focus of GWEO is "more missiles the cupboard" for the ADF.
However, Canberra also wants to use the programme to fuel growth of Australia's domestic defence sector – currently a national priority for the federal government.
Defence industry minister Pat Conroy says, while he sees providing equipment to the ADF "on time and on budget" as the defence industry's first priority, there are "secondary opportunities to grow a sustainable and sovereign Australian defence industry".
Conroy notes the sector already employs 100,000 people in Australia. Lockheed says it has 1,200 workers in the country.
With a strong university system and mature manufacturing base, Cahill says Australia already has "a lot of the right elements" to succeed in defence production.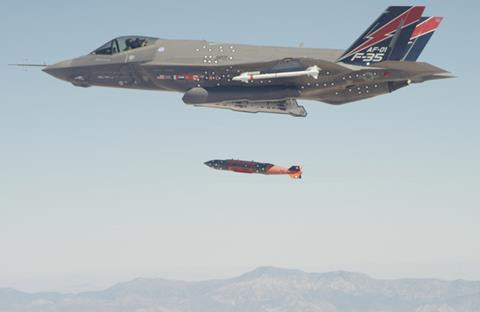 However, Conroy argues successive governments in Canberra have failed to capitalise on that potential.
"I'll be very honest with you here, Australia has underperformed on defence exports," Conroy says at Avalon.
However, he notes Australian firms are already supplying parts for major international projects such as Lockheed's F-35 Lighting II stealth fighter. Other major companies are also expanding production in Australia. BAE Systems says it plans to design and build a low-cost precision munition for the ADF; and Boeing is developing the MQ-28 autonomous combat jet aircraft entirely in Australia.
Conroy thinks the GWEO initiative could further expand Australia's role as global supplier of defence products.
"We've got great opportunities to partner going forward on things like our guided weapons enterprise, where not only can we produce missiles in Australia for [ADF] needs, but be a second supply line for United States," he says.
Lockheed says that possibility is not out of the question, but the company will initially be focusing on the more modest goals of expanding Australia's production capacity. That includes identifying new suppliers, building a skilled labour force and developing assembly facilities.
"We will build transformational factories of the future here in Australia," says Kota.
While Lockheed says it is ready to move as quickly as Canberra can support, Heading cautions the company will not sacrifice quality or reliability.
"We can't mess with things like reliability," he notes. "Weapons like this need to work every time."
One major consideration for Lockheed will be ensuring any investments it makes in Australia are financially viable in the long term. Part of that will be forecasting long-term demand for the products Australian officials want to build at home.
"We need to look at the worldwide market and worldwide demand," says Heading, noting Lockheed will need more than just the domestic orders from Canberra.
"It's not sustainable", he says, to make large investments into rapidly expanding production capacity if demand will drop off a few years later.
However, Cahill is optimistic regarding current demand signals.
"The numbers are just enormous," he says, in assessing the NATO bloc's interest in munitions acquisition. "The demand is clearly there."
Just how far that demand will carry the burgeoning Australian defence sector remains unclear, however.
Much of Canberra's goals for munition production will require Washington to approve the export of sensitive manufacturing technologies – which also provide jobs in the USA.
Industry observers say US regulators will likely withhold export approval for the production of some highly sensitive components, such as the missile seeker heads and guidance systems that enable precision accuracy.
However, Cahill says there is still a great deal of work that can be done in Australia, both to shore up the country's own stocks and serve as an additional supplier to the USA.
"All nations can contribute in some way to our collective defence," he notes.