The US Air Force (USAF) has awarded Rolls-Royce a $2.6 billion contract to replace the engines on its Boeing B-52H Stratofortress bomber fleet.
The award is for 608 examples of the company's F130 engine, a military derivative of the BR725 business jet engine. The contract also includes spare engines, support equipment, engineering data and sustainment services, the USAF said on 24 September.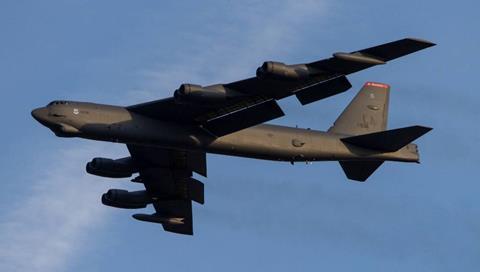 R-R beat bids from GE Aviation and Pratt & Whitney. Though R-R is based in the UK, the F130 will be manufactured in Indianapolis, Indiana.
The R-R F130 engine will replace the P&W TF33-PW-103 turbofan, which has powered the B-52 fleet since the 1960s. The USAF believes that ageing turbine is not sustainable beyond 2030.
"The B-52 Commercial Engine Replacement Program is the most important and comprehensive upgrade to the B-52 in over half a century," says Major General Jason Armagost, director of strategic plans, programmes and requirements with USAF Global Strike Command. "The B-52 is the workhorse of the nation's bomber force and this modification will allow the B-52 to continue its critical conventional and standoff mission into the 2050's."
The USAF has 76 examples of the Stratofortress in its fleet. Each bomber has eight engines.
The strategic heavy bomber can be used for a wide variety of missions, including dropping nuclear and conventionally-armed bombs, close-air support, air interdiction, offensive counter-air and maritime strike.
Boeing is contracted to integrate the engines with the bombers. It will modify the first two B-52Hs by the end of 2025 ahead of ground and flight testing. The first lot of re-engined B-52Hs are to be finished by the end of 2028, with the entire fleet re-engined by 2035.
The new engines are expected to remain on the B-52H through the end of its service life. The USAF anticipates the turbines will increase fuel efficiency and range, while reducing maintenance costs.