The US Air Force Research Laboratory (AFRL) is anticipating delivery later this month of the first major assembly of its Self-Protect High Energy Laser Demonstrator (SHiELD) weapon.
SHiELD is an advanced technology demonstration programme within AFRL that aims to develop a directed energy laser weapon housed in an aircraft pod that is capable of shooting down surface-to-air missiles or air-to-air missiles flying at Mach speeds.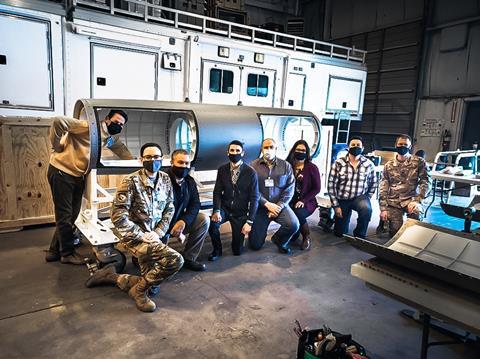 The first major assembly is the SHiELD pod structure, which was built by Boeing. It will allow AFRL scientists and engineers to begin building and integrating the entire system. The remaining subsystems, which include the laser system and the beam control system, should be delivered by July, and the full system test is scheduled for fiscal year 2024, says the laboratory. Lockheed Martin is the prime contractor for the SHiELD programme.
After delays, the AFRL emphasises the technical difficulty of shooting down incoming missiles travelling greater than the speed of sound.
"These are hard problems we are solving," says Jeff Heggemeier, SHiELD programme manager. "Imagine the disturbances and stresses – wind speeds, turbulence, and quick aircraft manoeuvres that a laser system would have to perform under. We had to solve those challenges first – and that took time."
Ultimately, having a laser weapon aboard an aircraft could upend the balance of aerial power. Some of the greatest dangers to US Air Force combat aircraft are surface-to-air missiles, such as the Russian-built Almaz-Antey S-400 Triumf surface-to-air missile battery.
If the SHiELD weapon works as advertised it will be a game changer, says Kelly Hammett, director of the AFRL's Directed Energy Directorate.
"The ability to shoot down missiles in flight, and operate in denied environments, increases the advantage we have over our adversaries," he says.