The US Navy (USN) test launched for the first time an AGM-88G Advanced Anti-Radiation Guided Missile Extended Range (AARGM-ER) on 19 July, deploying the weapon from a Boeing F/A-18 Super Hornet.
The test occurred at the Point Mugu Sea Range off the coast of Southern California and was "successful", the missile's manufacturer, Northrop Grumman, said on 2 August.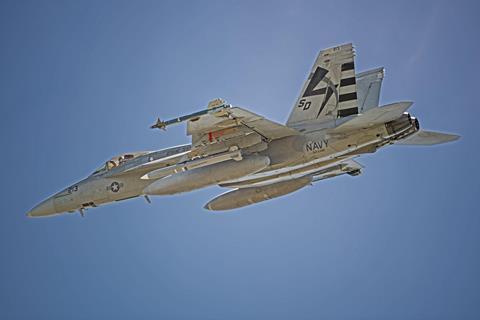 "The AARGM-ER was successfully launched from the F/A-18 aircraft and met the key test objectives of a first missile live-fire event," says Captain AC Dutko, USN programme manager for direct time sensitive strike.
The live-fire test "validated the overall system integration, performance of the rocket motor and the start of modelling and simulation validation", says the USN. A series of additional development tests are planned.
The service expects the AARGM-ER to enter low-rate initial production this summer. AARGM-ER is based on AARGM, which is in full-rate production and in service.
The -ER variant shares components with the original AARGM but includes a new warhead for increased destruction and a new rocket motor for a greater range. The original had four fins arrayed around its mid-body, but the extended range variant has a strake along its length to increase lift.
Many of the capabilities of AARGM-ER – such as its range – are not disclosed. Anti-radiation missiles are critical for the opening phases of an air war; thus the weapons' performance is typically classified.
AARGM-ER is designed to destroy enemy radar, jammers and radio transmitters during an initial phase of war called "suppression of enemy air defences", or SEAD. The missile is intended to blind an adversary and cut off its ability to communicate.
The USN plans to integrate the missile with the F/A-18E/F Super Hornet and EA-18G Growler. The three variants of Lockheed Martin's F-35 stealth fighter – operated by the USN, US Marine Corps and US Air Force – will also be capable of carrying AARGM-ERs.