Air New Zealand has ordered two ATR 72-600s and two Airbus A321neos which will enter the carrier's fleet from late 2024.
The carrier included the order announcement in its results statement for the 2023 financial year to 30 June, in which it swung to a pre-tax profit of NZ585 million ($349 million) on surging revenues.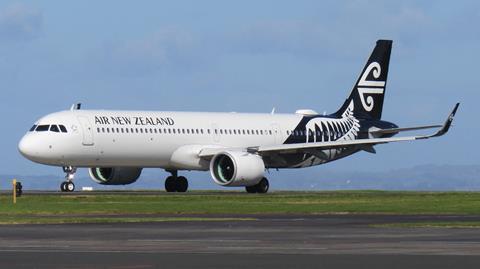 "Today we also announced an order for two new ATR turboprop aircraft for regional routes, as well as two new Airbus A321neos for our international short-haul network," says Air NZ chief executive Greg Foran.
"That's in addition to the existing domestic Airbus A321neo orders, and the eight new Boeing 787 Dreamliners we have coming into the fleet as we retire our Boeing 777-300s over time."
He adds that the business-class cabin of the carrier's 14 787-9s will be updated with the first retrofit starting in 2025.
Overall, the carrier will add 16 new aircraft between 2024 and 2028.
As of 30 June, the airline operated 106 aircraft: seven 777-300ERs, 14 787-9s, 17 A320s, 16 A320/A321neos, 29 ATR72-600s, and 23 Bombardier Q300s.
From 2024, the carrier will lease an additional 777-300ER, taking its total of the type to eight. Over the 2024-2028 period, it will also add a pair of 787-9s annually.
By its 2028 financial year, Air NZ aims to have a fleet of 111 aircraft: 22 787-9/10s, 35 A320-family aircraft, 31 ATR 72s, and 23 Q300s.