Qatar Airways chief executive Akbar Al Baker is keeping pressure on Airbus over a fuselage-degradation issue that grounded 20 of its A350s, while continuing to mull widebody freighter orders.
Al Baker flagged the issue earlier this year, prior to a decision by Qatar's aviation regulator to ground 13 of the airline's A350s over concern that the jets' fuselage surface, beneath the paint, is degrading at an accelerated rate.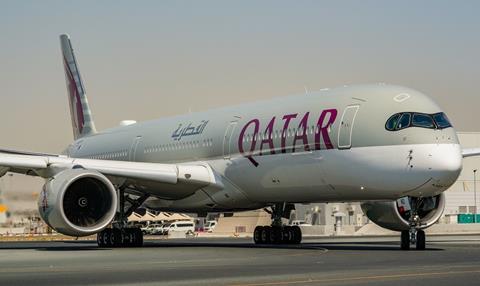 At the UK Aviation Club in London today, Al Baker said: "The issue is a serious matter. We don't know if it is an airworthiness issue and we don't know if it is not an airworthiness issue. This is also a conclusion that was accepted by EASA inspectors that came and met our regulator."
Now, 20 of Qatar's A350s, including -900s and -1000s, are "grounded by our regulator for a condition that is unprecedented in our short history," he adds. "There is an accelerated degradation of the skin of the airplane and… the real cause of it has not been established by Airbus."
Al Baker has been highy critical of the aircraft manufacturer's response to the issue, indicating Qatar will not take more of the type until the issue is resolved. He also maintains the issue not only effects Qatar's aircraft.
"They have at last accepted that there are other airlines – several of them – that have the same condition, and only yesterday in a release to Bloomberg they have acknowledged that they are working to find a solution, which means they still don't have a solution," Al Baker says.
He was referring to a report in which Airbus said it is considering changing the type of copper foil used for a lightning-conductor layer between the paint and the carbonfibre structure of the A350's fuselage.
Asked about the feasibility of such an action, Al Baker points to the possible recertification requirements of such a move.
Since its A350s were grounded, the Oneworld carrier has taken several measures to backfill capacity, including bringing back some A380s. No other countries' regulators have grounded A350s.
"We need to solve [the A350 issue]," Al Baker says. "We are out in the market to lease aeroplanes and also to reactivate our A380s and [to] bring back aircraft we had already returned to lessors. Airbus has made a very large dent in our widebody operations."
Cirium fleets data shows Qatar Airways has 53 A350s, 20 of which it lists as being in storage, and orders on a further 23 A350-1000s.
The row over the A350 surface issue is further heightened by the airline's interest in placing an order for "a large number" of widebody freighters. Al Baker has previously dangled interest in ordering freighter versions of either the A350 – for which Airbus secured its first orders earlier this month – or of the Boeing 777X, a variant which has yet to be launched.
"When we are buying aeroplanes, we keep our options open," Al Baker says, though he highlights Boeing's strong track record in freighters. "If you look at Boeing, they are leaders in freighters."
Al Baker notes that Qatar earlier this year sold its four A330 freighters.