Last year was one of heightened global tensions. Russia's full-scale invasion of Ukraine put NATO on a war footing, prompting pledges of increased defence spending, and neutral Finland and Sweden to apply to join the defensive alliance. Meanwhile, Beijing's aggressive posturing to Taiwan led some to believe an invasion is likelier than for some time – potentially triggering a US-China conflict.
Against this background, however, several of the biggest defence businesses in the Top 100 had a dismal 2022, with the total sales of the largest 10 concerns down to more than $240 billion from $251 billion in 2021, a 4.1% decrease. In fact, only one of them – Northrop Grumman – saw a sales increase on the previous year.
MARKET DYNAMICS
Of course, while the commercial aviation industry tends to rise and fall in synch with the fortunes of the airline market, the defence market can lag demand from the end-user. Expensive programmes run late and over cost, and payments from government customers are dependent on the timing of fiscal budgets.
Boeing's defence unit has been one of the worst hit. While, like its industry counterparts, Boeing has been impacted by parts and labour shortages, it is also feeling the consequences of what many believe has been under-bidding on Pentagon contracts, including the KC-46A tanker, a programme on which the company has been taking charges, the T-7A trainer, and the 747-8I-derived presidential jet.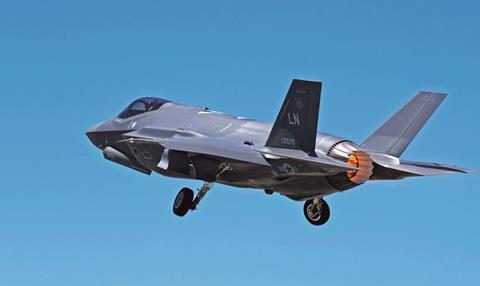 Lockheed Martin, by far the biggest player, had a better year than most, with sales down just 1.7%. Second-placed Raytheon Technologies – we are just looking at its military activities across its four main business units – was down by 4.9%, but a factor was the divestment at the end of 2021 of Raytheon Intelligence and Space's global training and logistics business.
UK champion BAE Systems had a strong 2022, despite what we estimate as a 10.7% year-on-year decline in aerospace defence revenues, with a record order intake across the business and the formal launch of the Global Combat Air Programme, combining the Anglo-Italian Tempest sixth-generation fighter effort with the Japanese F-X programme.
Similarly, Dassault Aviation's 19% dip in defence sales has much to do with contract cyclicality. Last time, the French company enjoyed the highest sales growth in the Top 100, although that included its Falcon business jet unit, and 2022 was a record year for orders, including a deal from the United Arab Emirates for 80 Rafales. However, it delivered just 14 Rafales compared with 25 in 2021.
Supporting documents
Click link to download and view these files
Top 100 aerospace companies ranked by revenue
1

2

Currently reading

Defence sales slide, despite heightened global tensions

3

4

5