Boeing is hopeful the US Army will make a decision later this year on whether it will proceed with the Block II upgrade for the CH-47F Chinook helicopter.
Budget constraints mean the service has yet to fully commit to the modernisation, which is currently in the engineering, manufacturing and development phase.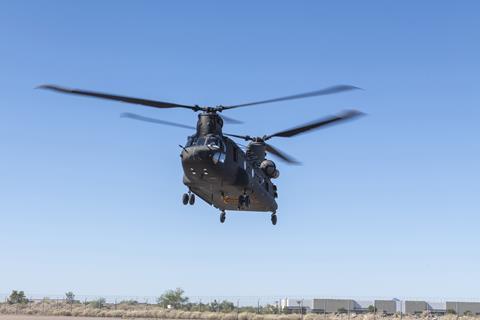 Although an order for an initial four Block II production aircraft, for delivery in 2023, was placed last year, the army did not ask for funds for those helicopters in its budget request. Lawmakers subsequently added the money for the rotorcraft. A similar scenario exists for the service's next fiscal year.
Should the army choose not to place further orders for Block II aircraft, Boeing will face pressure on its production line for the tandem-rotor type.
"The reality is that if we don't get that decision we have got some international customers but it is harder to keep the production line going," says Mike Spencer, senior director, vertical lift business development for Boeing.
Although he describes the decision as "critical", Spencer is confident it will still go in Boeing's favour. "We are working very closely with the US Army, they are going to have to make a decision based on their budget and requirements going forwards.
"We are optimistic – we think ultimately the issue is one of timing for the US Army."
Production of the current Block I-standard aircraft for the US Army runs out in December this year, Spencer told Defence IQ's International Military Helicopter conference in London on 15 February. Production of Block I aircraft for current and future export customers will continue, however, says Boeing.
Beyond the four Lot 1 helicopters, there are 25 of 30 MH-47Gs still to be delivered to the army's Special Operations Aviation Command, plus those for international customers, such as the 14 extended-range models for the UK Royal Air Force, which are due to be handed over from 2026.
Brigadier General Robert Barrie, program executive officer – aviation for the US Army, says the service's current focus is on achieving qualification for the Block II Chinook.
He says the army is still evaluating what to do with its fleet of more than 450 Chinooks. "We need to have a path that maintains the readiness and relevance of the Block I fleet. All the options are on the table.
"We have still to determine how we proceed with the Chinook fleet."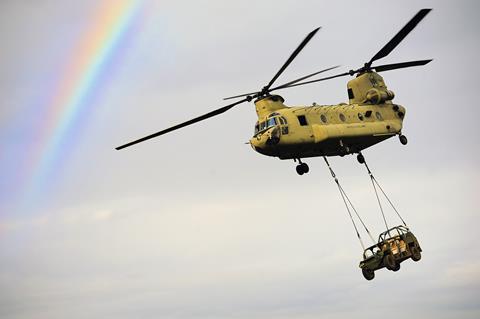 Improvements under Block II include an improved drivetrain, redesigned fuel tanks, and a strengthened fuselage to boost the helicopter's lift capability, raising payload to 9,980kg (22,000lb) from 9,000kg previously.
However, the Lot 1 aircraft are being supplied without Boeing's Advanced Chinook Rotor Blade, previously a central part of the upgrade, development of which was suspended after vibration issues were detected during testing.
Separately, new engines are being developed for the platform: an uprated version of the current Honeywell T55 and GE Aviation's T408.
Spencer says the changes will keep the Chinook in service for decades to come. "If we have our way and continue to improve that aircraft we can continue to produce it for another 40 years," he says.
Further out, Boeing is still considering how to meet future heavy-lift requirements in the 2060s and beyond.
While a multitude of new vertical-lift architectures are now in development, for example distributed propulsion, Spencer maintains that until the energy density of alternative power sources improves, a conventional rotorcraft will remain "the most efficient design for heavy lift".
"Once that propulsion and condensed energy problem is solved, you can go to other things; that's going to be the breakthrough in changing what the aircraft looks like."