Bell Boeing has delivered the first CMV-22B Osprey for fleet operations with the US Navy (USN).
The tiltrotor aircraft arrived at Fleet Logistics Multi-Mission Squadron 30 at NAS North Island in San Diego, California on 22 June, says the service.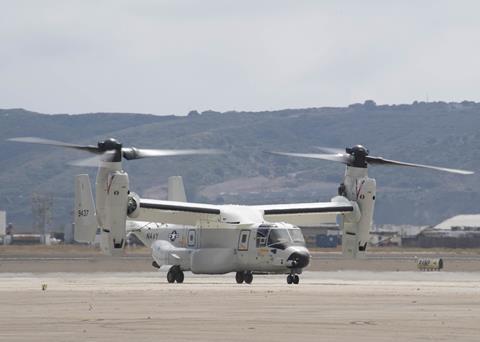 The aircraft comes after two CMV-22Bs were delivered in February and May to NAS Patuxent River in Maryland for developmental testing.
The USN plans to replace the Grumman C-2A Greyhound with the Osprey for aircraft carrier onboard delivery missions; flights intended to transport mail, cargo, personnel and supplies from land. Crucially, the CMV-22B is capable of ferrying the Lockheed Martin F-35C's Pratt & Whitney F135 turbofan, allowing the service to replace the stealth aircraft's engine at sea.
The CMV-22B can carry up to 2,720kg (6,000lb) of cargo. It differs from the US Marine Corps (USMC) variant, the MV-22B, in that it has two additional 227 litre (60gal) and redesigned forward sponson tanks. The additional fuel capacity allows the tiltrotor to fly about 34% further than its USMC counterpart, up to 1,150nm (2,130km).
The USN says it plans for the CMV-22B to reach initial operational capability and first deployment in 2021. The service's programme of record for the aircraft is 48 examples, though it notes that it currently aims to buy only 44.