Boeing has delivered the first example of the MH-47G Block II Chinook to the US Army Special Operations Command.
The newest variant of the tandem rotor transport helicopter was delivered "recently", the manufacturer said on 1 September. The helicopter was delivered to the US Special Operations Command on time despite the Philadelphia, Pennsylvania factory where it was made being shut down for about two-and-a-half weeks in April due to the coronavirus pandemic.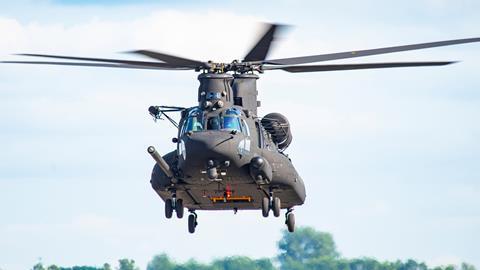 The company is on contract for 23 more MH-47G Block II Chinooks for the US Army Special Operations Command.
The Block II variant of the helicopter comes with a number of improvements intended to increase lifting capacity. For example, the aircraft comes with an Advanced Chinook Rotor Blade, which is designed to increase payload capacity by 680kg (1,500lb) while also reducing maintenance costs. It also comes with redesigned fuel tanks that are lighter and carry more fuel, as well as a strengthened fuselage for carrying heavier loads, and an improved drivetrain that is supposed to handle 9% more torque.
The US Army wanted the helicopter not only to lift more weight, but to have better performance at high altitude and in hot conditions, such as those experienced in Afghanistan.