Hindustan Aeronautics (HAL) and Safran will set up a joint venture company in Bengaluru to design, develop and support helicopter engines.
The joint venture's first objective will be a new powerplant for the planned 13t Indian Multi-Role Helicopter (IMRH) and its Deck Based Multi-Role Helicopter (DBMRH) naval variant, say the two companies.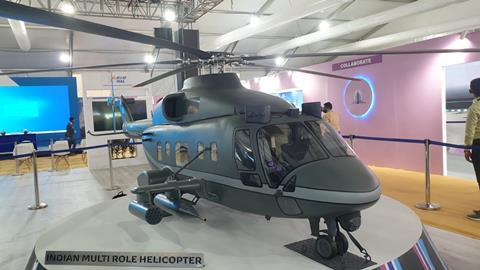 The joint venture announcement follows a workshare agreement signed in February to develop the new engine for the helicopter intended to replace India's Mil Mi-17s.
"We at Safran Helicopter Engines are truly elated to partner with HAL and India to craft this new turboshaft engine joint venture set to address the Indian market and also future export opportunities," says Safran chief executive Cedric Goubet.
"It marks a turning point in not only the longstanding relationship between our two companies but also between India and France. Together we will remain fully dedicated to our customers in India, proud to be designing and producing new, efficient helicopter engines."
In addition to the IMRH/DBMRH engine, the joint venture will design and develop other new helicopter engines in India. The initiative falls under the auspices of Indian Prime Minister Narendra Modi's drive to develop local industrial capabilities, particularly in aerospace and defence.
HAL and Safran have a history of working together, namely with the Shakti turboshaft engine that powers HAL's Dhruv, Rudra, and Light Combat Helicopter models.
In March 2022, the two companies also broke ground on a helicopter engine MRO shop in Goa, which will repair the Safran TM 333 and Shakti turboshafts.
"The new joint venture further extends the sphere of current cooperation and explores opportunities for strategic business collaboration that leverage the complimentary talents and capabilities of the two aviation firms," they add.
In February, HAL said the design of the IMRH had been frozen, and that it was awaiting formal government clearance for the programme. The company expects a total requirement for 400 helicopters from India's armed forces.
Prototypes will begin test flights with existing engines available on the market, although these will deliver 20% less power than that required for the IMRH.
The army variant of the IMRH will have a gross weight of 13t, while the navy variant's gross weight will be 12.5t. In its utility configuration, the IMRH will seat 24 troops, which can increase to 36 in a high-density configuration.