Leonardo Helicopters has underscored the credentials of its 8.6t AW149 super-medium-twin as a replacement for the UK Royal Air Force's (RAF's) Puma HC2 transports, particularly compared with rival "paper aircraft".
The Ministry of Defence (MoD) in a March planning document revealed that it intends to retire the RAF's 23 remaining Pumas by the middle of this decade, replacing them with what it calls the New Medium Helicopter (NMH).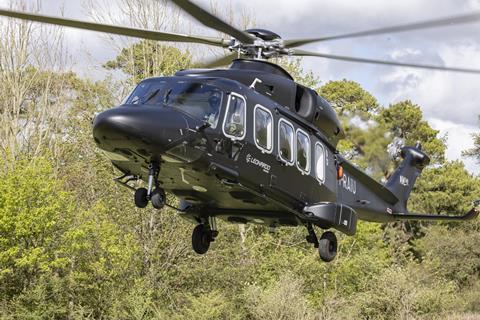 However, also included within the scope of the NMH is the replacement of three other niche fleets: army-operated Bell 212 and 412 transports, and Aerospatiale-built AS365 Dauphins which are used to support special forces personnel.
No details of the MoD's requirements have so far emerged, but "we understand the roles those aircraft fulfil today" and "we have taken a view on how they might evolve in the future", Mike Morrisroe, head of UK campaigns at the manufacturer, said during a 28 May media briefing at the airframer's Yeovil site.
That activity has allowed Leonardo Helicopters to "develop configurations for each of those roles", he says, which include troop transport, special forces support, search and rescue, medevac and others.
Working out how it would deliver those capabilities with the twin-engined type has given the airframer "an understanding of what the cost is and an understanding of what the maintenance burden looks like", says Morrisroe.
"At the moment, everything we are seeing is affirming that the AW149 is a really good fit for the roles that those aircraft fulfil today and what they might want to do in the future."
But new procurement guidelines which prioritise the country's economic interests over cost alone mean that the airframer is also keen to stress the AW149's potential contribution to the UK's industrial base.
Deliveries of UK-built AW149s could begin within 24 months of a contract signature, says Morrisroe, as the firm would only need to "re-establish" a domestic production capability rather than set up a new assembly line from scratch.
Last decade, Leonardo Helicopters built 11 AW189s – a civil variant of the AW149 – at Yeovil for UK coastguard operations, and has retained the necessary tooling and workforce knowledge. "We are ahead of the game in that respect," he says.
At present, AW149s and AW189s are assembled at the manufacturer's main production line Vergiate, Italy.
But should it win the NMH contest, Morrisroe says that around 60-70% of the AW149's content would be domestically sourced. That figure includes final assembly and support activities, however.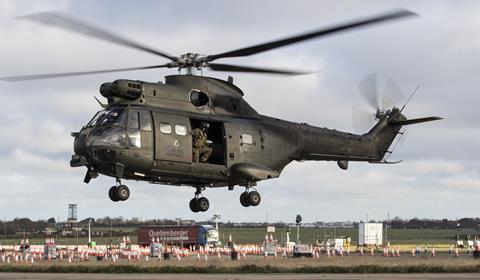 Rotor blades and transmissions for the AW149 and AW189 are already made in Yeovil, he says, but additional industrial activities would be allocated to UK suppliers, he adds.
"That's not us looking at a paper aircraft and taking a guess at UK content – it's us having a product that exists," he says.
That appears to be a thinly veiled side-swipe at its rival Airbus Helicopters, which has suggested it could offer UK-built H175s as a Puma replacement. No military version of that aircraft currently exists, and the manufacturer would also have to create a UK supply chain capable of replacing a substantial amount of content which is currently sourced from Chinese industry.
But for all that the AW149 is an in-production aircraft, since its launch in 2006 it has attracted just two buyers: deliveries of Egypt's 24 aircraft are ongoing, while the Royal Thai Army has previously received five units.
Morrisroe defends the AW149's sales record, noting that the key to unlocking export potential is securing an order from one of the company's 'home' governments. "When you are trying to export something, if your own government has not procured that equipment it is difficult to sell a product. Maybe that's one of the issues [with the AW149]."
While most export campaigns for the platform will be addressed from Yeovil, Leonardo Helicopters will maintain AW149 production capability in Italy to retain flexibility. However, Morrisroe denies that the company is watering down previous promises, underlining its "commitment" to export activity if selected by the UK.
As the MoD continues to draw up its requirements, Leonardo Helicopters is showcasing the AW149's capabilities with what it calls the common platform demonstrator – a dual-use aircraft that can also be used to highlight the AW189.
The demonstration aircraft – which still bears its Italian registration of I-RAIU despite the addition of a Union Jack on the fuselage – is equipped with twin 2,500shp (1,860kW) Safran Helicopter Engines Aneto turboshafts for enhanced hot and high performance. The AW149 is also available with 2,000shp-rated GE Aviation CT7 powerplants, although MoD requirements will dictate which engine is ultimately proposed.
In addition to the H175M, the AW149 is likely to face competition from the Sikorsky UH-60M Black Hawk and possibly Bell's developmental 525. However, Morrisroe remains confident: "We think there will be clear blue water in terms of acquisition and through-life costs against other products being considered," he says.