Bell flew its 525 Relentless super-medium-twin helicopter for the first time in the summer of 2021 using sustainable aviation fuel (SAF).
Though the 525 is designed to ferry workers to and from offshore oil and gas rigs, Bell is touting its ability to fly without fossil-fuel-derived avgas.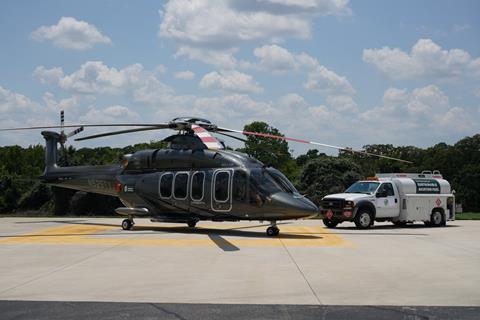 The 525 is still undergoing Federal Aviation Administration Type Inspection Authorization flight testing and Bell plans to use SAF on some future flight tests, it says on 16 November.
In March, Bell said 97% of the helicopter's test activities were complete and it predicted certification this year. The company anticipated delivering the first example of the aircraft to an undisclosed oil and gas company in 2022.
"The Bell 525 continues to demonstrate unprecedented performance as it progresses through flight testing," says Doug May, vice-president of flight with Bell. "Showcasing the aircraft's usage of SAF further reinforces its position as a true 21st century aircraft, capable of bringing more sustainable practices to the industry and future customers."
Bell started to use SAF in its training and demonstration helicopters in March as part of parent company Textron's goal to reduce greenhouse gas emissions 20% enterprise-wide by 2025.
The SAF comes from Avfuel Corporation. The biofuel, Neste MY SAF, is made from waste and residue materials, says Bell.
The 525 can carry up to 20 passengers and has range of 580nm (1,074km) – characteristics designed to help oil and gas companies quickly reach rigs that are far offshore. However, despite first flying in 2015, the boom-and-bust nature of the fossil fuel industry, and a fatal crash during testing, have delayed the helicopter's certification and introduction into service.