Taiwan will probe the fatal crash of a Sikorsky UH-60M helicopter that killed eight, including armed forces leader Gen. Shen Yi-Ming.
The crash occurred on the morning of Thursday 2 January in Northern Taiwan, according to the office of Taiwan's president. Contact with the helicopter was lost 13min after it took off from Songshan air base near the capital Taipei, on a flight to an army base in the northeast.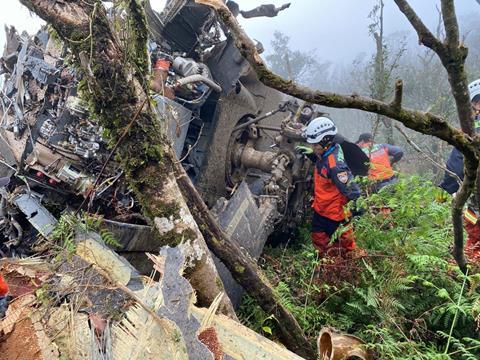 Reports suggest the crash occurred in foggy conditions, but investigators have yet to determine if this played a factor in the disaster. Before the crash, however, the crew radioed that weather conditions were acceptable.
A rescue force of 80 military personnel was dispatched about an hour after contact was lost. Owing to mountainous terrain it took rescue teams about four hours to reach the survivors.
One day after the crash search teams are still looking for the helicopter's flight recorders.
A seating chart published in Taiwanese media shows that the five survivors were all seated at the rear of the helicopter.
Taiwanese president Thai In-win has directed the country's defence minister to lead the probe into the accident.
Flight International's World Air Force's Directory shows that the Republic of China Army operates 35 UH-60Ms with an average age of 4.1 years.