The US Air Force (USAF) has reached a major milestone in fielding its new combat rescue helicopter.
The service said on 12 October that Sikorsky's HH-60W Jolly Green II programme has reached initial operational capability (IOC). The designation indicates the USAF possesses enough functional Jolly Green II airframes, logistics requirements and trained operators "to support a 30-day deployment to any independent location with a package of four aircraft", according to the service's Air Combat Command (ACC).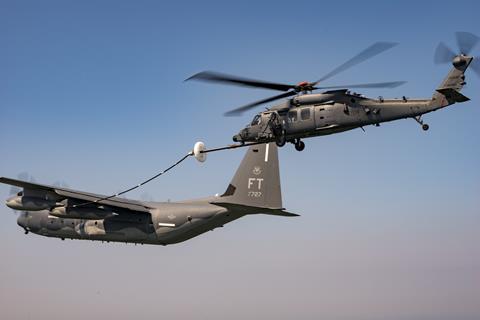 "Current and future combat environments require us to manoeuvre further and faster than ever before, and the capabilities provided by the Jolly Green II supports the platform's viability for our air force personnel recovery core function for as long as possible," says ACC operations director Major General David Lyons.
The command oversees all USAF combat-oriented aircraft, including fighter squadrons, and intelligence-gathering, command and control and combat search and rescue (CSAR).
The HH-60W will replace the USAF's current CSAR helicopter, the HH-60G Pave Hawk. Both are variants of Sikorsky's UH-60 Black Hawk. The Jolly Green II offers "a range of improved capabilities over its predecessor", according to the ACC, including increased range and survivability, a new fuel system and upgraded avionics.
The USAF adds that the HH-60W was designed with full digital integration in mind, allowing for faster data transfer and better integration with other military platforms.
"The future of air force rescue is secure and our team is ready to recover anybody, anytime, anywhere, against any adversary," says Colonel Russ Cook, commander of the 23rd Wing, one of the first USAF units to receive Jolly Green IIs.
The HH-60W, whose Jolly Green II namesake nods to the Vietnam-era Sikorsky HH-3E Jolly Green Giant, is the only dedicated CSAR helicopter in the Department of Defense's fleet, says Sikorsky. The type was designed and built specifically to fill the CSAR mission, which requires flying into contested or enemy-controlled areas to recover isolated personnel, it adds.
By contrast, the Pave Hawk is a "highly modified" variant of the UH-60 built for the US Army, according to the USAF.
The Jolly Green II draws on "the proven survivability and reliability of the H-60M Black Hawk" type, says Connecticut-based Sikorsky.

"This [IOC] declaration is a vote of confidence from USAF leadership and demonstrates the critical role of, and need for, the HH-60W," says Nathalie Previte, vice-president of Sikorsky's army & air force systems division.
The long-time producer of rotorcraft says Jolly Green IIs boast a larger, 2,438 litre (644USgal)-capacity main fuel tank, versus the Pave Hawk's 1,363 litre tank, and improved armour and ballistic protection around the cockpit and cabin.
Sikorsky has delivered 24 HH-60Ws to the USAF, the company says. The USAF programme of record covers up to 113 airframes of the type.