General Atomics Aeronautical Systems successfully tracked a small submersible target for 3h using 10 sonobuoys dropped from an MQ-9 unmanned air vehicle (UAV).
The demonstration is intended to show that the US Navy (USN) can conduct anti-submarine warfare (ASW) tasks using the company's MQ-9B SeaGuardian UAV.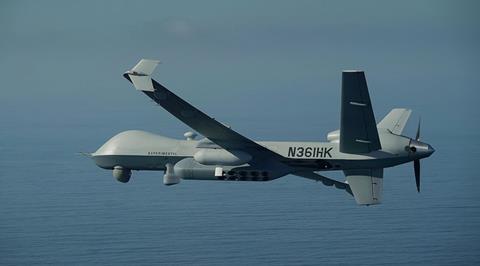 A General Atomics-owned MQ-9A Block 5 Reaper carried and released 10 A-size sonobuoys into the water during the demonstration, which took place at an undisclosed Pacific Ocean test range on 24 November. The MQ-9A was a stand-in UAV for the company's MQ-9B SeaGuardian.
The sonobuoys deployed were a mix of bathythermograph and acoustic types. Bathythermograph sonobuoys are used to measure water temperature at different depths. That is important because sound waves – coming from submarines or being bounced off submarines using sonar – behave differently as water temperature changes. The changes result from differing water density. Knowing water temperature helps acoustic sonobuoys, essentially highly sensitive microphones, locate submarines.
The MQ-9A Block 5 used sonobuoys to track a Lockheed Martin MK-39 Expendable Mobile ASW Training Target, essentially a torpedo that can mimic the sounds and movements of a submarine. A target track was generated using General Dynamics Mission Systems-Canada's UYS-505 Sonobuoy Processing System.
General Atomics says the anti-submarine capability of the MQ-9B SeaGuardian is part of a cooperative research and development agreement with the US Naval Air Systems Command at Patuxent River in Maryland.
"This demonstration is a first for airborne [anti-submarine warfare]," says David Alexander, president of General Atomics Aeronautical Systems. "The successful completion of this testing paves the way for future development of more anti-submarine warfare capabilities from our MQ-9s."
The MQ-9B SeaGuardian has four wing stations that can carry up to four sonobuoy dispenser system pods, which can dispense up to 40 A-size or 80-G size sonobuoys. General Atomics says the MQ-9B SeaGuardian's endurance exceeds 18h. That means it has a mission radius of 1,200nm (2,220km) with 8h of on-station time for submarine hunting, the company says.
General Atomics claims the MQ-9B would be "a low-cost complement to manned aircraft for manned-unmanned teaming operation". For the USN, that would mean teaming with the Boeing P-8A Poseidon maritime patrol aircraft.