The US Army has awarded 10 contracts worth $29.8 million for development of Air Launched Effects technologies, which include unmanned air vehicles (UAVs) that the service sees as working alongside its helicopters.
The projects are divided into three focus areas: air vehicle; mission systems; and payloads. The aim of the projects is to eventually produce a new and more advanced Air Launched Effect prototype, the service said on 24 August.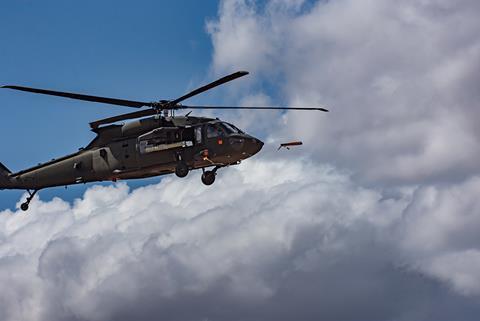 Air Launched Effects are a broad category of UAVs that would act as extensions of rotorcraft, performing missions involving reconnaissance, electronic warfare and loitering munition strikes.
The service sees Air Launched Effects as important tools for reaching into enemy territory while keeping rotorcraft beyond the range of adversaries' anti-aircraft weapons. It plans to use the drones from its Boeing AH-64 Apache attack helicopters and General Atomics Aeronautical Systems MQ-1C Gray Eagle UAVs, as well as its Future Attack Reconnaissance Aircraft.
Alliant Techsystems Operations, Raytheon and Area-I won contracts for Air Launched Effects vehicle design development. In March, the army demonstrated a Sikorsky UH-60 Black Hawk launching an Area-I ALTIUS drone from just 100ft above the ground.
L3 Technologies, Rockwell Collins and Aurora Flight Services won mission systems contracts, and Leonardo Electronics, Technology Service, Raytheon, and Alliant Techsystems secured payloads contracts.
The army says it plans to select designs for the Air Launched Effect vehicle, payload and mission system for its final prototype in 15 months. The service wants to initially field its prototype in fiscal year 2024.