The Federal Aviation Administration has ordered US flight departures halted until 09:00 Eastern time due to an outage of the system used by the FAA to distribute Notices to Air Missions.
The 11 January take-off prohibition has thrown US operations into disarray and affected airports nationwide.
United Airlines, for example, says it has "temporarily delayed all domestic flights and will issue an update when we learn more from the FAA".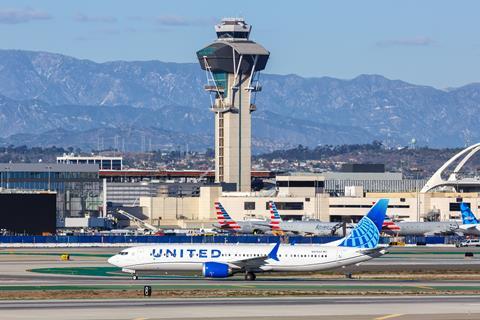 The full extent of the issue, which follows widespread airline operational upheaval late last month, remains unclear, as other airlines did not immediately respond to requests for comment.
"The FAA is still working to fully restore the Notice to Air Missions system following an outage," the agency tells FlightGlobal. "The FAA has ordered airlines to pause all domestic departures until 09:00 Eastern time to allow the agency to validate the integrity of flight and safety information."
"Departures are resuming at Newark Liberty and Atlanta Hartsfield-Jackson airports due to air traffic congestion in those areas. We expect departures to resume at other airports at 09:00 Eastern time," it adds.
The agency has said that "some functions are beginning to come back on line" and that it has been "performing final validation checks and repopulating the system".
Notices to Air Missions are FAA-issued memos regarding issues related to flight safety.
In late December, many US airlines suffered operational trouble due partly to winter weather, though Southwest Airlines faced wider trouble due to failed computer systems that forced a historic disruption to its network. The airline cancelled some 3,000 of its flights daily over several days.
The US Department of Transportation has been urging airlines to address such issues. The latest issue, however, seems to stem from the FAA's own technology.
The US airline industry has long advocated for Congress to provide funds needed by the FAA to modernise its technology.