Ryanair and Wizz Air carried fewer than 1 million passengers between them in March for the second month in a row, with heavy restrictions on international travel bringing the European aviation sector to a virtual standstill.
Some 500,000 passengers were counted across the Ryanair group – a fall of 91% year on year – while Wizz welcomed 480,000, which equates to a fall of 73%, according to figures released by the low-cost carriers today.
For the first time since the beginning of the pandemic, the most significant effects of the Covid-19 crisis are starting to be seen in the operators' prior-year figures.
So, while Ryanair carried 5.5 million passengers in March 2020, that was down from 10.9 million in March 2019. Compared with the latter figure, its March 2021 traffic was down 95%.
Similarly, Wizz Air carried 1.75 million passengers in March 2020, down from 2.72 million in the same month of 2019. Compared with the latter figure, its March 2021 traffic was down 82%.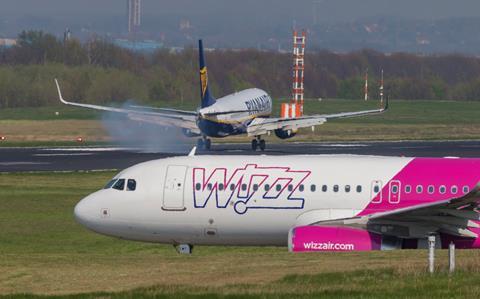 In both cases, March 2020 marked the first time the two carriers' passenger figures had fallen on a year-on-year basis for several years.
Ryanair operated 5% of its "normal" March schedule this year with a 77% load factor, while Wizz flew 20% of its capacity at a load factor of 63%.
The March 2021 traffic figures are still ahead of the lows seen in the first months of the coronavirus pandemic, but are way down on passenger numbers recorded during the peak summer months of 2020, as the lifting of travel restrictions allowed for the resumption of some international travel.
New waves of the virus in Europe have made the first quarter of 2021 a write-off for most carriers, with domestic flights the only reliable outlet for capacity.