Vietnam Airlines expects to commence scheduled direct flights between Vietnam and the USA from end-November, after it secures regulatory approval from the US Federal Aviation Administration (FAA).
The SkyTeam carrier says in a 1 November statement that it received clearance from the US Transportation Security Administration (TSA) for direct flights to the USA, paving the way for eventual FAA approval.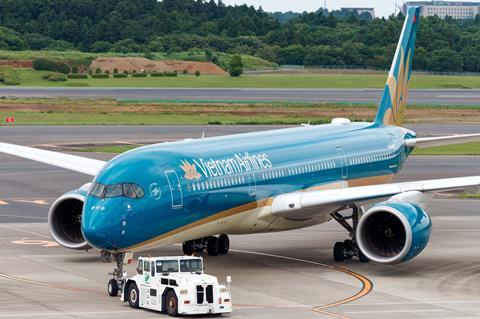 It notes that the TSA clearance is "one of the most complex and important conditions" to obtain before gaining the FAA's approval for operations.
The airline intends to start by operating direct flights between Ho Chi Minh City and San Francisco, but did not state if it was considering other cities in the USA.
Current border restrictions on incoming travellers in Vietnam will also mean that Vietnam Airlines might not operate many flights at the start.
In recent months, Vietnamese carriers have zeroed in on direct flights to the USA, particularly on the west coast, where a significant Vietnamese diaspora resides.
Compatriot Bamboo Airways, for example, obtained the go-ahead to operate non-stop charter flights from Hanoi and Da Nang to Los Angeles, San Francisco, as well as Seattle.
Bamboo is also understood to be keen on direct scheduled flights between the two countries.
The FAA in February 2019 moved Vietnam up to Category 1 in its safety assessment, which paves the way for Vietnamese carriers to expand operations into the USA.