US FAA administrator Steve Dickson has indicated that the Boeing 737 Max could commence certification flights within a few weeks, although certain issues with the aircraft still need to be resolved.
But speaking during a briefing at the US embassy in London on 6 February, he stressed that there was "no timeframe" to return the aircraft to service.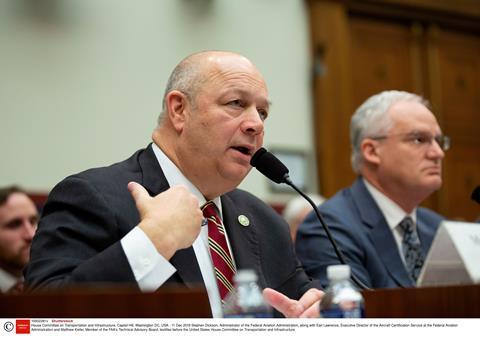 "I don't think it's helpful to get out there with timeframes or timelines," he says. "There's a process we're following and, as that process moves forward it's important our technical teams stay focused on the process."
He says he has been "encouraging" the avoidance of public announcements and rather a concentration on "complete and fulsome" submissions of data and proposals to deal with outstanding issues.
"There's a number of issues we've been able to complete in the last few weeks [but] there are several other items that need to be completed before the next significant milestone," he says, referring to the certification flights.
Software auditing is complete but minor adjustments might need to be made to specific systems – such as the duration of illumination of a stabiliser trim annunciator light. Dickson adds that "several different approaches" could also be taken to resolve a separate wiring issue.
He says the start of certification flights – which he feels could occur in the "next few weeks", depending on Boeing proposals – might not necessarily need complete resolution to be achieved beforehand.
While Boeing is likely to be discussing return-to-service scenarios with 737 Max customers, Dickson says such talks and public announcements are "two different things".
"I don't want to create expectation or pressure on my workforce or Boeing's workforce," he says. "It's important they have the resources and support to be able to complete this process."
Dickson acknowledges that there were "gaps" in the original 737 Max development and certification.
"There were engineering assumptions that were put into the process that needed to be revisited," he says. "But remember, the design of the Max was not the only factor in these accidents."
He points to human performance and maintenance issues and says that regulators "need to account" for operations in various regions.
"We need to work together with regulators around the world to make sure that in all aspects [such as pilot training, experience, certification of operators] we continue to raise the bar," he says. "Because all these things are interdependent."
He says the FAA felt a "responsibility", in the aftermath of the high-profile accidents involving the Max and its subsequent grounding, to "make sure the process was absolutely bulletproof".
Dickson states that this is "not a sustainable proposition going forward", nor does it "leverage" the data and resources of the private sector.
"But we'll certainly take some of the lessons learned from the Max and apply them to airplanes currently under development, such as the 777X."
He gives the creation of a technical advisory board as an example of such measures.
"[We'll be] taking some of the practices that came out of the Max," he says. "Whether those survive in same form, going forward, in future certification systems remains to be seen."