Boeing has ordered the inspection of all undelivered 737 Maxes, after it found debris in the wing fuel tanks of some of the grounded narrowbodies.
The airframer states that it has also recommended that 737 Max customers with aircraft that have been stored for more than a year to inspect fuel tanks for foreign object debris (FOD).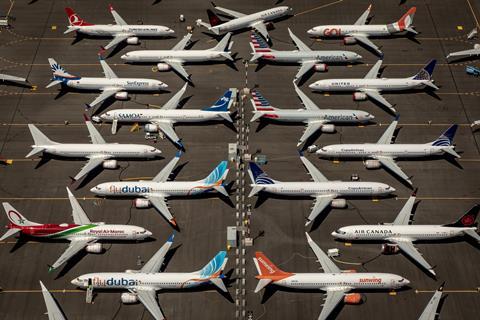 The company states it first discovered the FOD while conducting maintenance on undelivered 737 Maxes in storage at its Renton facility.
"That finding led to a robust internal investigation and immediate corrective actions in our production system. We are also inspecting all stored 737 Max airplanes at Boeing to ensure there is no FOD," the airframer says.
Boeing did not say if the latest issue would impact the 737 Max's return to service.
Aviation site Leeham.net first reported the FOD problem, stating that objects found included tools and rags.
While it is unclear how many 737 Maxes were found with the FOD issue, media reports – citing an internal employee memo – indicate "several" aircraft were affected.
The FOD issue comes nearly two weeks after Boeing uncovered a new problem with the narrowbody's flight-control computers.
Boeing is hoping to get the 737 Max – the subject of a worldwide grounding since March 2019, following two fatal crashes – re-certified by mid-2020.
There are 386 737 Maxes in storage, with more than 4,500 aircraft on order, Cirium fleets data indicates.