European safety regulators have unveiled an information sharing and co-operation platform to improve access to conflict-zone information for aircraft operators.
The initiative is intended to provide European Union Aviation Safety Agency members with the best data available for flight-planning purposes.
Following a nine-month trial project last year, the bespoke platform – developed in partnership with Osprey Flight Solutions – was launched on 3 March.
EASA insists the timing is not directly connected to the situation in Ukraine, whose airspace has been closed to traffic.
Osprey says a single interface provides threat identification and monitoring, alerting capabilities, and access to advisory and regulatory documentation.
It adds that the platform is designed to facilitate collaboration by enabling participants to discuss the information and provide supplementary detail.
EASA will administer and fund the platform, meaning users will have free access.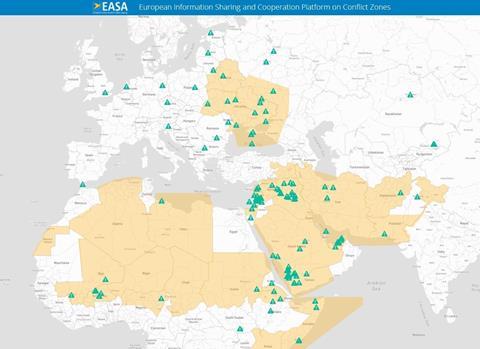 Accurate and up-to-date conflict-zone information has been considered crucial to reducing risks to civil aviation, particularly since the destruction of a Boeing 777 over Ukraine in 2014 and a Boeing 737 over Iran in 2020.
"Conflict zones are, by their nature, unpredictable," says EASA director for strategy and safety management Luc Tytgat.
"Operators need the very best information available on time to make their risk assessments."
He says the authority is "confident" that continuous, dynamic, comprehensive information-sharing through the platform will increase situational awareness and enhance safety.
"This collaboration solidifies our position as the leading provider of aviation risk management data and analysis," says Osprey chief executive Andrew Nicholson.