Ryanair's incident involving the apparent forced diversion of a Boeing 737-800 to Minsk strongly parallels an event five years ago involving a Minsk-bound service operated by Belarusian flag-carrier Belavia.
The Belavia aircraft, also a 737-800, had departed Kiev's downtown Zhulhany airport for Minsk on 21 October 2016 with 142 occupants.
But just 27nm short of the airspace boundary between the Kiev and Minsk flight information regions, according to Belavia at the time, the crew was instructed by Ukrainian air traffic control to return to the airport without explanation.
"It was also stated that, in the event of non-compliance with the order, fighters would be [sent to intercept]," the carrier added.
Ukrainian law enforcement, the airline said, removed an Armenian passenger from the aircraft after it landed at Zhulhany, about 20min after being ordered to return.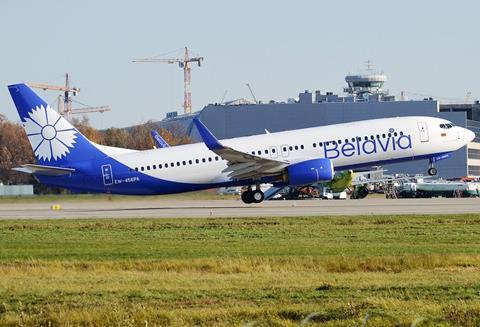 The passenger was widely identified as the reporter Armen Martirosyan, aligned with the anti-Maidan movement which opposed the Ukrainian government and its closer ties with Europe.
He was detained only briefly and departed on another Belavia service to Minsk within 3h, the airline said.
Belarus's foreign ministry formally protested to Ukrainian's diplomatic mission over the authorities' actions to "forcibly return" the Belavia aircraft.
"The Belarusian side expects an official apology and demands reimbursement of all financial costs and expenses caused by the actions of the Ukrainian side," it stated.
Ukrainian state security service SBU reportedly dismissed Belavia's claims that air traffic control had threatened to deploy combat aircraft during the incident, suggesting that claims of such a measure against a civil aircraft were absurd.