Investigators are probing an incident in which a Titan Airways Airbus A321LR was found to have missing windows after departing London Stansted.
The twinjet had taken off on a transatlantic service to Orlando, Florida, on 4 October.
But during the climb, at around 10,000ft, the crew noticed "excessive cabin noise" and turned back to Stansted, states French investigation authority BEA, citing preliminary information from UK counterparts.
"It was discovered that three windows were missing and loose," it says.
BEA adds that an inspection of the twinjet also found damage to the left-hand horizontal stabiliser.
The inquiry has not specified how many windows were involved, or their location on the aircraft.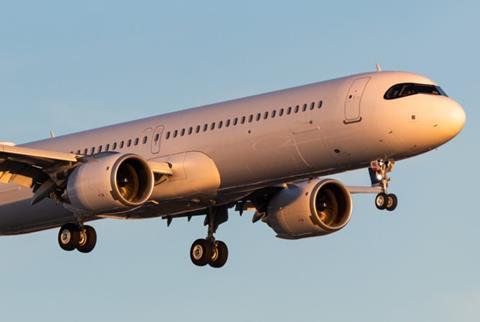 No-one on board the jet was injured.
Titan Airways took delivery of the aircraft (G-OATW) – powered by CFM International Leap-1A engines – in March 2021.
It had originally operated as a UK government transport, under the registration G-GBNI, with a Union Flag livery before being replaced in the role.