Canadian investigators believe the police operator of an unmanned aerial vehicle became task-saturated, and unaware of a collision risk, before the craft was struck by a Cessna 172N flown by a student on a training flight.
York Regional Police was operating the drone in the vicinity of Toronto-Buttonville municipal airport on 10 August 2021 when the Cessna – with a student and instructor on board – carried out an approach to runway 15.
The UAV, a DJI Matrice M210, was supporting a police operation to search for a potentially-armed individual, taking place beneath the approach path, says Transportation Safety Board of Canada.
But it found that the UAV pilot did not brief an accompanying visual observer on his role, and the observer was "not aware" of a requirement to maintain line-of-sight with the UAV. Nor was he trained in visual scanning techniques or aircraft identification.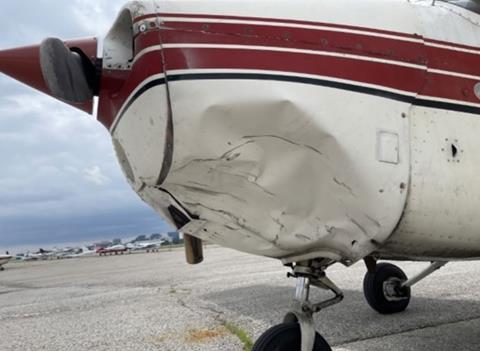 The inquiry says the UAV pilot, who had to operate the camera, monitor the craft's status, and communicate on multiple channels, "likely became task-saturated" – limiting his ability to remain visual with the UAV while listening for radio calls and the sound of inbound aircraft.
Investigators found the UAV was hovering in a stationary position for more than 2min when the Cessna – whose pilots were using see-and-avoid principles in the circuit – collided with it at 65kt, badly damaging the aircraft's nose underside.
The collision occurred about 1.2nm from the runway but the Cessna landed safely and neither occupant was injured.
Being directly in front of the descending Cessna, the relatively small UAV, positioned against a complex background of building and ground features, would have been "very difficult to see", says the inquiry.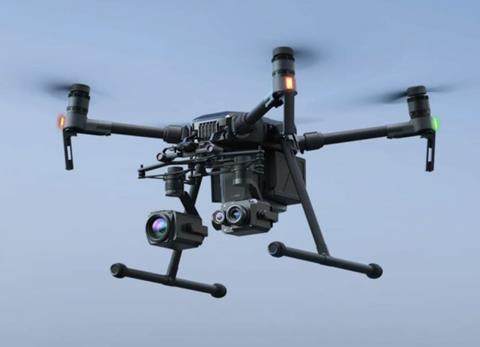 Although the pilots were broadcasting the Cessna's location and listening for aircraft transmissions, it adds, they did not hear any other traffic on the frequency and were not aware of any in the area.
Investigators found that a UAV flight within the airport's control zone should have required authorisation from air traffic control but, given the serious nature of the police operation, its pilot felt a "sense of urgency" and "decided to forego" seeking permission.
York Regional Police subsequently amended its UAV procedures to include pre-flight risk assessment tools and an updated pilot checklist, as well as extra guidance for visual observers.