All members of IATA have committed to reaching net-zero C02 emissions by 2050 under a resolution agreed at the association's AGM in Boston today.
The commitment reflects one already targeted by many – but not all – airlines under their own initiative in recent months and years.
"Many in this room – individually or in groups – have already taken this step," says IATA director general Willie Walsh in Boston. "For others, this will be an additional challenge at a very difficult time.
"But for all us, it will be a commitment behind which we must be united and determined to deliver on time. It is the right thing to do. And, together, it is possible."
Also speaking Boston, the chairman of the IATA board of governors and JetBlue Airways chief executive Robin Hayes said there were "two indisputable truths" for the industry.
First, "this commitment is the right thing to do for our industry and humanity", Hayes says.
Second, "failure to make this additional commitment will leave others to set targets for us and leave us without a credible voice in the discussions".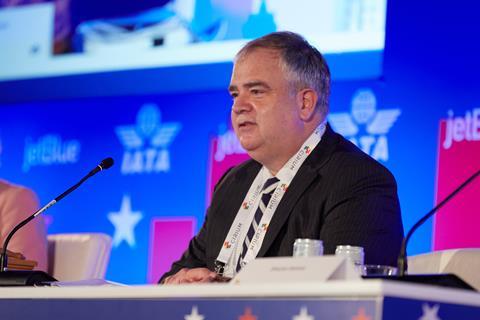 As the target was being discussed – and ultimately adopted – at the AGM, China Southern Airlines sought to amend the resolution, asking for it to recognise the 'common but differentiated responsibilities' (CBDR) principle, which says that while there is a shared responsibility for addressing sustainability, different degrees of economic development between countries also need to be recognised.
In response to that intervention and a string of comments by Chinese airlines, Walsh said he recognised the fact that China's government has an objective to achieve net-zero CO2 by 2060, 10 years later than that targeted by IATA, but that 2050 was the right choice for airlines.
China Southern's amendment was not seconded and was therefore not put out to vote.
As it looks ahead to meeting the new industry-wide 2050 target, Walsh explains his belief that "the cost and effort of breaking our industry's dependence on fossil fuels cannot all fall on the backs of airlines alone".
Airlines will "do their part", he states, but cites a long list of aviation stakeholders who he believes need to do more.
Governments "must set policies supporting carbon-reducing innovation, sustainable aviation fuel [SAF] production and CORSIA, while avoiding a patchwork of environment taxes", Walsh states.
ICAO "must lead governments in a global approach that has always been successful at driving change in our industry", he continues.
Fuel producers "need to bring large-scale, cost-competitive SAF to market", while airports must make sure "we can have SAF in airports at no additional cost compared to jet fuel", he explains.
Furthermore, governments and air-navigation service providers must "eliminate inefficiencies in air traffic management – all of which are inexcusable even without a sustainability mandate", Walsh says.
Finally, "aircraft and engine manufacturers must produce radically more efficient airframe and propulsion technologies".