The All Nippon Airways (ANA) Group will conduct a major revamp of its business model that involves launching a new airline brand and retiring far more aircraft than originally planned.
The group will make these and other significant changes as part of its response to the coronavirus pandemic that has battered the world's airlines, not least ANA.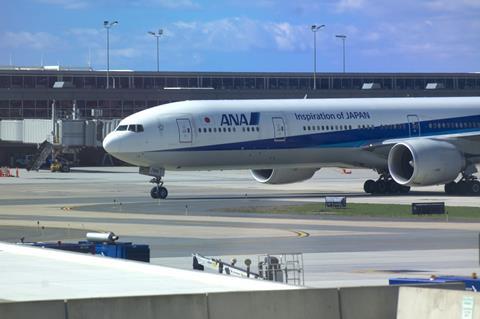 The carrier announced the transformation during the release of its six month results to 30 September. Owing to travel restrictions stemming from the coronavirus pandemic, it suffered an operating loss of Y269 billion ($2.7 billion) for the period, on revenues of Y292 billion, 72.4% down from a year earlier.
"Through the ongoing crisis, ANA has taken steps to independently maintain our business operations, ranging from the suspension of flights to cost cutting measures. However, as the outbreak of Covid-19 is yet to settle, the ANA Group will carry out structural business reforms to address how travel has changed to build resilience toward any future global risks," it says.
Under the plan, ANA will remain the group's premium full-service brand, while Peach will remain its low-cost carrier. A new passenger airline will sit between the pair on the service/price matrix.
The new brand will be established by fiscal year 2022, which commences on 1 April 2022. It will be based on the ANA unit Air Japan, and will operate Boeing 787s equipped with over 300 seats. The carrier's geographic focus will be Southeast Asia, Australia, and New Zealand.
"By using the current Air Japan entity as the foundation, the brand will be capable of responding to sudden changes in demand and begin operations quickly after its establishment," says ANA.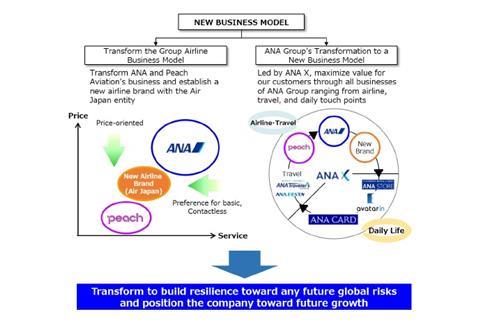 Justifying the decision, ANA foresees the popularity of online conferences and meetings permanently reducing demand for business travel. On the other hand, VFR (visiting friends and relatives) travel will "remain robust," with potential growth "from new segments including new working environments and multiple residency."
LCC brand Peach will cooperate more closely with ANA, and also operate medium distance routes with the Airbus A321LR.
Beyond just the airline operations, the ANA Group will look to increase profits from areas such as credit cards and travel. The company hopes to use customer data generated by various operations to "create value beyond airline operations by maximising the lifetime value of our customers through all business of the ANA Group."
More immediately, ANA Group hopes to achieve cost savings of Y150 billion ($1.4 billion) in the 2020 fiscal year to 31 March 2021, and Y200 billion in the 2021 fiscal year. A major element of this will be fleet cuts.
As for its fleet plans, ANA will retire 35 aircraft in fiscal 2020, compared with seven retirements called for previously. Coupled with the arrival of 13 new aircraft, and the departure of two aircraft from Peach, the ANA Group will have 276 aircraft at end of the fiscal year, 33 fewer than originally planned.
Moreover, the number of large aircraft at the end of fiscal year 2020 will be just 36, 24 fewer than then the 60 large aircraft called for in original plans. Twenty-two retirements involve 777s. In addition, the delivery of a single 777 will be delayed, as well as ANA's last of three A380s.
Other cost cutting measures include centralising procurement, bringing outsourced maintenance work in house, and reducing office space "based on the usage level of each office from changed worked styles."
"ANA Holdings is embarking on an ambitious transformation that will strengthen operations and position it for long term growth and success in a market still reeling from Covid-19," says Shinya Katanozaka, president and chief executive officer of ANA Holdings.
"As we work to fully account for the current situation, we will introduce a new business structure based on two major strategies. This comprehensive transformation initiative is not simply about cutting costs, instead it will address how travel has changed so that ANA Holdings has a framework for an entirely new, future-oriented operational strategy."

Greg Waldron is the Asia Managing Editor of FlightGlobal, responsible for the team's airline, aerospace, and defence coverage across the region. He has worked at the company since 2009. In the airline space, Waldron has conducted dozens of interviews with airline leaders in the Asia-Pacific. He also covers areas such as MRO and safety. On the defence beat, Waldron has written extensively about the rise of Chinese airpower, as well as broader airpower developments around the region, such as indigenous fighter programmes, and regional acquisitions of foreign equipment. In addition, Waldron writes about commercial helicopters in the region and business aviation. Waldron worked has a freelance journalist with his work appearing in several business publications.