European carriers are projected to post the largest losses of any region next year as the already high level of load factors required to breakeven means they cannot cut costs sufficiently to operate profitably.
IATA, in releasing its latest financial outlook for the industry, projects European carriers will post a collective net loss of $11.9 billion in 2021. While IATA sees all region's carriers remaining in the red, Europe's carriers are seen racking up the biggest loss in volume terms.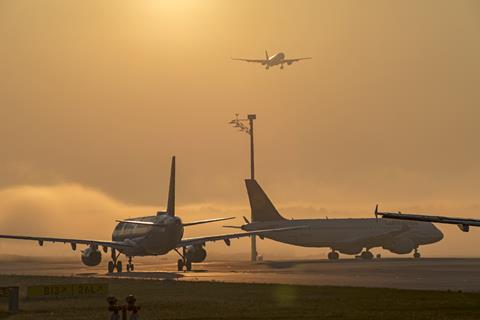 While the projected net loss is not that much greater than the $11 billion North American operators are expected to lose in 2021, European carriers are projected to have a far worse EBIT margin of -9.5% compared with -5.6% among North American carriers.
Europe, even before the crisis, was one of the regions that had the highest breakeven load factors, explained IATA regional vice-president Europe Rafael Schvartzman during a media briefing today. "It's a region which is very expensive to do business in."
Required load factor to reach breakeven for European carriers this year is 88% – and the region's airlines are expected to achieve 63.8%. Against this backdrop the collective net loss for 2020 is expected to be $26.9 billion.
"We see some positive numbers at the end of 2021 but still a loss and still far away from the breakeven load factor numbers that are needed," Schvartzman says.
"With all the measures airlines have taken, we are expecting that breakeven load factor will come down to 71.9%. But the expected 65.6% load factor won't be enough for airlines to be profitable in 2021, despite the cost-cutting the airline industry has done."
IATA's more positive outlook for Asia-Pacific and North America in part also reflects the large domestic markets – notably the USA and China – in those regions, where demand is expected to recover first as there are fewer travel restrictions.
This makes the reopening of borders to international travel, for which IATA is urging the adoption of systematic testing, even more critical. European carriers could though benefit if new vaccination programmes are initially more widely deployed in developing markets.
"We definitely see the vaccine as the light at the end of the tunnel. In the meantime we have to implement massive testing to reopen borders and get rid of quarantines," says Schvartzman. "We are still missing a harmonised approach in Europe. If we can come together and then as the vaccine comes in, Europe has a very good chance.
"We think the European Union will be able to restart faster potentially, but we have not seen yet the co-ordination level that is needed."