A senior airline executive warns that a further casualty of the coronavirus crisis – in addition to at least two years of financial pain – will likely be innovation and new products.
Speaking on the sidelines of the IATA World Air Transport summit in Boston on 5 October, Emirates Airline president Tim Clark says passenger carriers must first sort through financial woes before they can again test the waters of new investments, especially in the premium segment of their businesses.
"We are all in the same boat," he says. "The next two to three years are going to see a focus on restoration of profitability, and cash positivity. And the recovery will continue on that basis until such time."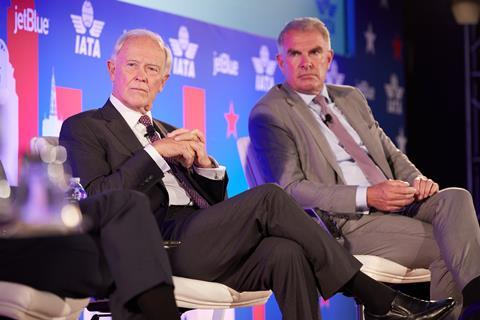 "Part of the casualty of that will be innovation - in design, and the adoption of new products," he says. Risk-aversion will be rampant.
Fleet replacement will also suffer, as might the eagerness of executives to embrace new technology, he adds.
Part of the challenge, he says, is that numerous governments took a stake in their countries' air transport companies in order to supply them with liquidity during the crisis last year. Public servants, he says, are not known for readily embracing untested, future-oriented technology that requires large upfront investment. These carriers are now looking to rid themselves of the inevitable caution that comes with having government representatives on their boards.
Lufthansa, whose chief executive Carsten Spohr "is desperately trying to offload the German government", is one good example, Clark says. Spohr told a plenary session at the conference on 4 October that his company was thrilled to be able to purchase back the stake the government had taken to prop up the carrier at the height of the pandemic last year.
"It feels like being privatised for the second time," Spohr told IATA delegates. "We said from day one that we'd rather be in debt with the financial markets than be in debt with the taxpayers. We want to go back to that as quickly as possible."
"The fact of the matter is, the industry is cash strapped and it has taken on enormous amounts of debt," Clark continues. "And at the end of the day, [airlines] have to get to be cash positive." Only after that happens will there be "more of a willingness to start looking at [innovation] going forward".