JetBlue Airways has again increased its offer for Spirit Airlines, just days before Spirit's shareholders are due to vote on a potential tie-up with Frontier Airlines.
The New York-based carrier on 27 June offered Spirit shareholders an additional pre-payment of $2.50 per share, as well as a monthly payment of $0.10 per share between January 2023 and the date of the consummation or termination of the potential transaction. It also increased its reverse-termination fee to $400 million.
Last week, Frontier also raised its offer for the Florida-based ultra-low-cost carrier to a deal now valued at $2.6 billion. Spirit's board recommended shareholders vote for the Frontier offer at a special shareholder meeting set to take place in three days, on 30 June.
But JetBlue is not letting go, and has been saying repeatedly that its offer is "superior".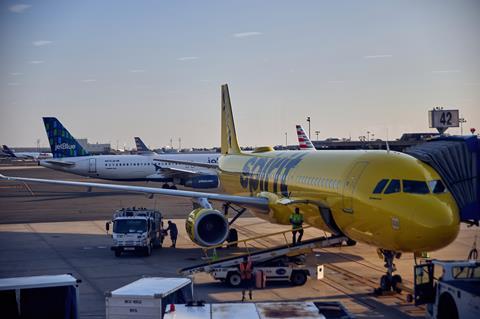 "After the Spirit board's failure to recognise our decisively superior offer, we've discussed our offer directly with Spirit shareholders and are now modifying our proposal in response to shareholders' expressed interest, to include a monthly payment for shareholders, with the certainty of a significant cash premium at closing," says JetBlue chief executive Robin Hayes.
"Spirit shareholders should not be misled by Spirit and Frontier's rosy projections of a potential future stock price, which are based on highly-flawed assumptions that fail to account for the actual market conditions, including the need for pilot pay increases and elevated fuel costs," he adds."The entrenched Spirit board has approved a revised deal that is ultimately better for Frontier and its controlling shareholder than it is for Spirit shareholders."
Neither Frontier nor Spirit immediately responded to requests for comment about JetBlue's latest offer.
The tug-of-war for the Miramar, Florida-based discount airline has been ongoing since February. Denver-based Frontier and Spirit announced on 7 February that they would combine forces through a cash-and-stock deal, creating the fifth-largest airline in the USA. Two months later, JetBlue initiated a hostile all-cash takeover of the company with the intention of dismantling it.
Since then, Spirit and JetBlue have been trading increasingly acidic barbs over a potential transaction, with JetBlue claiming Spirit did not give its offer the same attention as it had Frontier's.
Both Frontier and JetBlue have repeatedly increased their offers for Spirit, in an attempt to woo shareholders.
Spirit has scheduled a special shareholder meeting to approve the proposed merger with Frontier for 30 June. That meeting was delayed from earlier this month because Spirit had said it needed more time to assess JetBlue's offer.