JetBlue Airways has secured "commercially questionable slot times" at Amsterdam's Schiphol airport weeks after filing a complaint about the government of the Netherlands' repeated rejections of its slot requests.
The New York-based carrier has agreed to take two pairs of daily slots at Schiphol from John F Kennedy International and Boston Logan International airports, JetBlue discloses in a 21 March filing with the US Department of Transportation (DOT).
The slots are temporary, however, and the airline says "the access issues identified in its complaint will continue".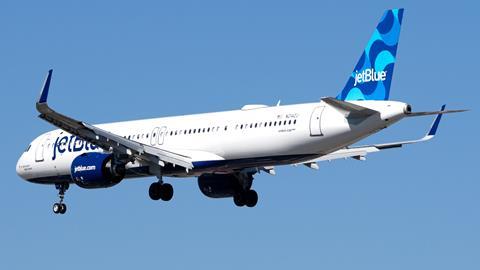 On 14 February, New York-based JetBlue filed a complaint with the DOT alleging "blatant" discrimination on the part of Amsterdam's slot coordinator – Airport Coordination Netherlands (ACNL) – as it vies for access to the world's third-busiest airport by passenger volume.
"The refusal of the government of the Netherlands to make slots available to JetBlue is due to the government's noise reduction plan involving a drastic reduction in the number of annual flight movements at Amsterdam," JetBlue says.
"The government of the Netherlands' conduct has a discriminatory effect on new entrants such as JetBlue," the airline adds.
JetBlue maintains that the ACNL has for years denied its requests for slots and still has not made guarantees beyond the 2023 summer travel season in the northern hemisphere.
"Although JetBlue accepted these temporary slots (which are at commercially questionable slot times), ACNL has confirmed to JetBlue that it will have no claim to historic rights for the slots' continued usage during the IATA Winter 2023 scheduling season and beyond," the airline adds.
The slots were previously held by UK regional carrier Flybe, which is winding down after recent rescue talks collapsed.
JetBlue says it had previously been denied the Amsterdam slots left vacant by Flybe and had been informed by the ACNL that those slots could stay empty for up to a year, pending Flybe's bankruptcy administration process.
The slot feud also involves Dutch carrier KLM, as JetBlue's 14 February complaint suggested that the US government confiscate slots from KLM as a last resort.
In a 21 March filing, KLM responds that "both slot pairs permit daily service during hour bands suitable for JetBlue's proposed services".
"Although they are non-historic, there is a reasonable likelihood JetBlue will receive these slots for the winter traffic season as well," KLM adds.
JetBlue currently flies to London from both Boston and New York and said in November that it plans to operate from JFK to Paris' Charles de Gaulle airport in summer 2023.