The International Association of Machinists and Aerospace Workers (IAM) has called on the US government to offer additional assistance to the industry as part of any future Covid-19 relief measures.
In a letter to US congressional leadership, union president Robert Martinez says on 27 January that it is integral for lawmakers to consider the so-called "Aviation Manufacturing Jobs Protection Act", which would create a payroll support plan for this sector.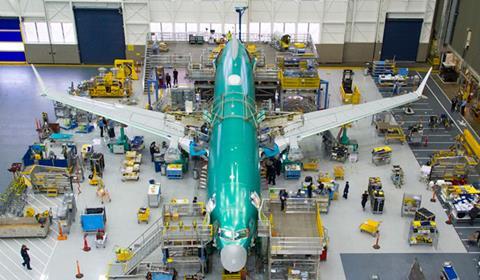 According to its website, the union represents 600,000 aerospace workers in North America, including at Boeing, Pratt & Whitney and Southwest Airlines.
"With global air travel stalled and travel booking forecast to remain at historic lows for some time, the domestic aerospace industry and the highly-skilled workforce on which it relies are facing dire economic consequence," Martinez writes. "It is vitally important to our national security, our domestic supply chain and our role in the global economy that we support this indispensable industry and the workers which are its backbone."
The legislation, spearheaded by senators from Washington and Kansas states – two centres of US aerospace manufacturing – would pay up to 50% of payroll costs for workers most at risk of lay-off or furlough.
Last month, the government passed a relief bill which provided an additional $25 billion to airlines, in order to help them through the aftermath of the coronavirus crisis that brought the industry to a near-standstill in early 2020. This aid comes in addition to the $58 billion in grants and loans that had been set aside to airlines in March.
That earlier coronavirus relief law set aside billions of dollars in loans to distressed and national-security-critical companies – categories into which aerospace manufacturers might fall – but included no aerospace-specific aid.