While Asia-Pacific has fewer electric vertical take-off and landing (eVTOL) aircraft manufacturers than the Western world, it remains a key market for the nascent sector, with the region expected to account for the lion's share of global aircraft demand.
But at a panel discussion during the Global Urban and Advanced Air Summit Asia held in Singapore, industry players and watchers outlined their belief that the region could still tap into opportunities in the broader advanced air mobility (AAM) sector, despite the lack of a manufacturing base.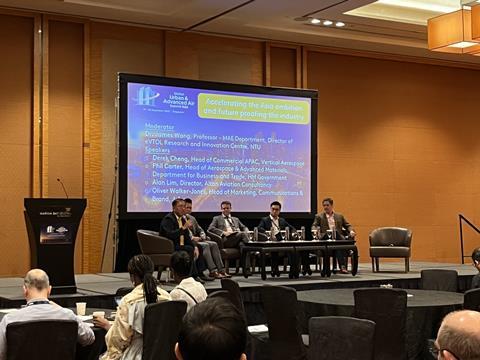 Oliver Walker-Jones, the head of marketing, communications and brand at North American developer Joby Aviation, says that while the region's players could end up being manufacturers in the long-term, "there is greater value" in the wider support services "that goes around…the OEM".
"It takes a very, very long time to build an OEM start-up… [it could take] let's say 10 years to get from a paper design to an actual aircraft. It is super capital intensive," he adds.
Concurring, Alan Lim, a director at Alton Aviation Consultancy says it is not "an issue" that there are fewer manufacturers of eVTOLs in Asia compared with those in the West.
"Really, the case is, the market for aviation, the market for AAM is here in Asia. It's not critical to have the OEMs here, but what's critical is, as we build up the rest of the ecosystem and the infrastructure, I think this is where there's a lot more opportunity, a lot more potential investments, that could be had," says Lim.
Vertical Aerospace head of commercial for Asia-Pacific Derek Cheng adds that industrialisation presents opportunities for the region. Says Cheng: "These vehicles, as you have seen, they cannot be transported just from the initial source country. They need to be assembled locally as well, and therein allows for a role of new industrialisation partners."
Singapore-based university professor James Wang, who was moderating the panel, says that "Asia could be a good source of the tier one, or or tier two supply chain."
Wang, who heads the eVTOL research and innovation centre in Nanyang Technological University, also agrees that "OEMs account for a small portion of the actual value chain".
The panellists' comments come as the AAM sector in Asia-Pacific moves towards commercial operations of eVTOLs.
Several AAM companies, including Joby, Vertical Aerospace and Japan's SkyDrive, have also signalled plans to operate a series of demonstration flights at the 2025 Osaka World Expo. Certification is likely to follow thereafter, then entry into commercial service.
There have been eVTOL commitments from a number of airlines – including Japan Airlines and AirAsia for Vertical's VX4 aircraft – in the region.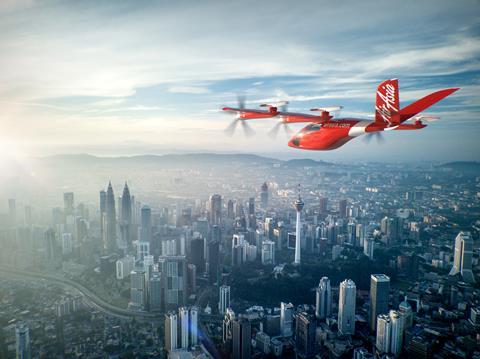 Cheng says that the company has a "diverse operator range" in Asia, but is working "primarily" with air operator certificate holders at the outset.
"In Asia, it's all about building the trust in the initial entry into service. We believe existing operators – like airlines or helicopter operators – are best-placed to be able to perform that job," Cheng adds.
Lim adds that airlines are well-suited to operate inter-city flights - like Singapore-Johor Bahru for instance. "Air operators are a bit more proficient, and a bit more familiar with these kind of operations," he says.
Even within certain types of intra-city operations, like from an airport to downtown, Lim believes it "flows in well" with an airline operating model.
"You want to be providing the entire end-to-end journey for the most premium of your passengers, from the city centre to the airport, so it fits in with the business model," Lim adds.
Still, he notes: "That's not to say that there won't be other third-party [non-airline] operators, because I think the very fact that when you start moving into intra-city type of operations, it's a whole different type of skillset."