Supersonic aircraft developer Boom has begun testing the engines that power its XB-1 demonstrator aircraft.
"The team is using engine runs to determine that everything functions as designed, from the stall susceptibility (due to the unique installed configuration), to the performance of the engine's accessory gearbox that powers hydraulic pumps, generators and more," the post reads. "This, in turn, is enabling the checkout of all the other systems on the aircraft, such as the flight controls and avionics."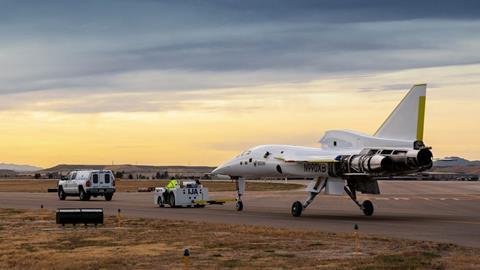 During the tests, the aircraft is tethered to a large apron with reinforced anchors, and each of the three engines are tested at idle, followed by all three at idle and then at various power settings.
"Ultimately, XB-1 ground testing will demonstrate the functionality of all aircraft systems, and determine that each system meets or exceeds specifications," Boom writes.
Boom will move the XB-1 demonstrator test campaign to Mojave, California, the company adds, without saying when.
Once there, Boom intends to conduct taxi tests, during which the aircraft will "likely reach 135kt" (245km/h), followed by flight tests. The aircraft will take off at about 185kt, Boom says.
Boom rolled out the demonstrator in October 2020 and originally planned for the aircraft to complete first flight in 2021.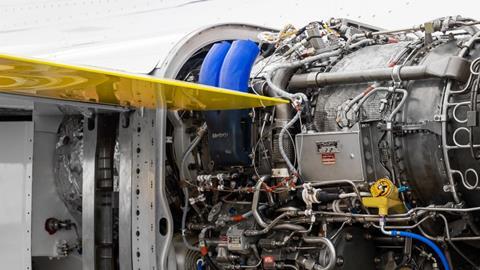 The demonstrator is a first step for Boom to develop Overture, a conceptual Mach 2.2 airliner with 4,250nm (7,871km) of range and capacity for 65 to 88 passengers, according to the company.
An early Boom customer is United Airlines, which last June said it agreed to purchase 15 of the conceptual Overture jets. United declined to say how much money it put down as part of that deal.