Developers of a new wing-tip intended to cut fuel consumption are preparing for final assembly of the first example, with flight tests set to take place using an Airbus A330.
The individual parts for the first prototype of the tri-blade wing-tip have been produced, says the German-based firm APC.
Known as Trinitair, the wing-tip comprises three separate blades which are designed to reduce induced drag. The design resembles that of the wing-tips of soaring birds of prey such as eagles and buzzards.
The developers have previously detailed tri-blade wing-tip design in a patent document, which states that a "mutual inclination" of the individual winglet blades leads to "advantageous results" in computational fluid dynamics calculations.
"In particular, it has proven to be advantageous to substantially incline the upstream first winglet relative to the second winglet," with a "substantial" relative dihedral angle of 37° to 80°.
The third winglet blade, it says, should similarly be positioned with a dihedral relative to the second.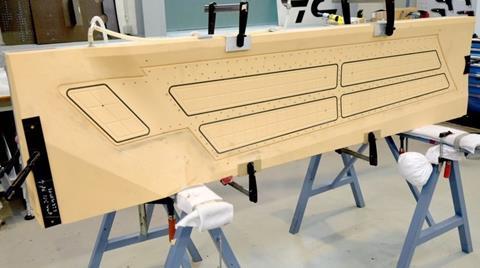 APC's paper states that computational fluid dynamics simulations have been conducted for a tri-blade wing-tip on an Airbus A320 in cruise.
But the company intends to test its prototype on an A330 in co-operation with Portuguese wet-lease operator Hi Fly.
"Final assembly [of the wing-tip] is the next step," it states.
APC says the parts for the prototype have been produced in partnership with Varel-based firm Deharde and Stade-based Airbus affiliate CTC.
Deharde specialises in precision parts engineering and windtunnel models. The company says it has been involved in the project "from an early stage".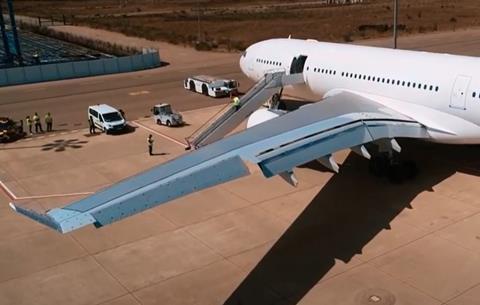 APC says the Trinitair wing-tip is intended for simple retrofit, allowing in-service aircraft to reduce fuel-burn.
But it adds: "While designed specifically for the after-sales market future aircraft designs can as well benefit from this technology."