General Electric is neither expecting nor planning for a significant spike in demand for commercial air travel that would jolt aviation back to pre-pandemic levels and suddenly improve the fortunes of its aircraft engine division, and instead intends to manufacture as much of its own luck as it can, GE's chief executive Larry Culp asserts.
Global aviation's recovery is the number one priority for US-based GE, which also has healthcare and renewable energy divisions in its portfolio.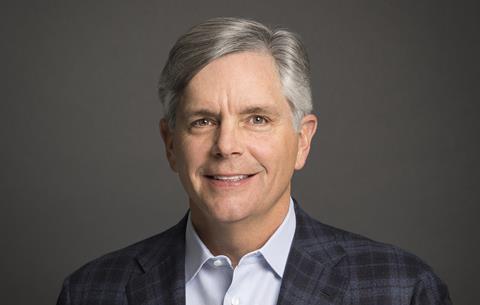 "That's our biggest, best business in so many ways," Culp said on 14 September during the virtual Morgan Stanley Laguna Conference. "You saw that in [our] 2019 profile from a profit [and] a cash perspective. Covid really hit that business hard."
While Culp has been "encouraged" by commercial aviation's sequential growth this year, the damage wrought recently by the delta variant of Covid-19 has cast doubt any assumptions one can make about the timing of a full recovery.
"We've watched departures intently in [aviation]," he says. "As of this morning, global departures are off 2019 levels [by] 27%. We see China down 13%, the US down 10%, Europe down 35%."
The number of global flights on 13 September was down 34% versus the same day in 2019, Cirium data shows.
Culp insists that GE Aviation is "well positioned" for aviation's recovery, which he believes is "inevitable".
"We've got the largest, youngest engine platform out there."
Culp forecasts that the market for narrowbody aircraft will likely recover in 2023, with the market for widebodies recovering the following year.
"We simply can't sit back and wait for [the recovery]," he says. "We've got to make as much of our own luck as we can. Simple things like improving the turnaround time on our shop visits creates a little bit more room for us to handle the demand that is there. Or working more thoughtfully with our supply base, another way in which we're going to take more advantage of the demand that is there as that demand builds."
GE Aviation also intends to pursue more opportunities in the military sector.
Culp notes that airlines during the past 18 months have "moved heaven and earth" to conserve cash by reducing their schedules and fleets and extracting the maximum amount of much green-time service life from engines, among other tactics. Nevertheless, delays in fleet investments such as aircraft purchases and new servicing contracts "can only be maintained for so long".
Separately, Culp reiterated on 14 September his expectation that Irish lessor AerCap's $30 billion planned 100% acquisition of GE's leasing unit GECAS would clear its final regulatory hurdles and close this year.
"That will position us to have reduced our debt load by over $70 billion over the course of the last three years," Culp says. "We're excited about that because we [will] really begin to move away from the focus on deleveraging."
The European Commission approved the AerCap-GECAS transaction in late July. GE disclosed in June that the US Department of Justice had concluded its review of the deal.